How Many Power Grids Are in the U.S.?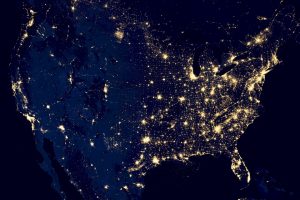 When thinking about how the country is powered, have you ever found yourself wondering "how many power grids are in the U.S.?" The answer to this question might surprise you: the entire United States is powered by an interconnected power grid composed of the Eastern Grid, the Western Grid and the ERCOT (Texas) Grid. These three main grids generate enough power to keep the U.S. powered every day. There is also an Alaska grid to provide power to residents of the state. According to the U.S. Energy Information Administration, over 7,300 power plants generate the power that is then distributed over 160,000 miles of high-voltage power lines as well as millions of low-voltage lines and distribution transformers. This power reaches homes and businesses across the country, providing reliable electricity directly where it is needed.
Facts About How Many Power Grids are in the U.S.
The U.S. power grid has been supplying countless people with power since its initial installation in the 20th century. The three main interconnections, or grids, that make up the entire power grid for the Lower 48 states of the U.S. are:
The Eastern Grid: Covers the area from the east coast to just east of the Rocky Mountains. Parts of northern Texas are also covered by this grid.
The Western Grid: This grid covers the area starting with the Rocky Mountains and continuing outwards to the west coast.
The ERCOT Grid: The ERCOT, or Electric Reliability Council of Texas, grid covers almost the entire state of Texas.
With issues like outdated, failing infrastructure and hackers with the potential to cause outages, the U.S. power grid is becoming more prone to issues and outages across the country. Extreme weather and superstorms regularly cause outages that can be costly both to repair and for facilities that rely on power for mission-critical functions. The vulnerability of the U.S. power grid is a major reason why many business and home owners choose to install backup generators to keep essential functions running even when the power grid malfunctions. Many communities are also opting to install microgrids for an alternate power source. Microgrids can generate power via renewable sources such as solar panels or wind turbines, making them a more environmentally friendly and responsible option as well as good protection against power failure from the country's major power grid.
Woodstock Contact Information:
For more information about power grids and backup power in the U.S. please contact the team at Woodstock Power Company via phone or email.
Phone: 610-658-3242
Email: sales@woodstockpower.com