Our extensive equipment inventory includes a wide assortment of used industrial natural gas and diesel generators and other power equipment from respected manufacturers such as Caterpillar, Kohler and Trane, to name just a few. All used industrial generator sets have been thoroughly tested and are in peak working condition. When you purchase used industrial power generators from Woodstock Power, you can get as much as 70 percent off the original selling price, making them an extremely affordable alternative to purchasing brand-new equipment.
When you buy industrial generators and engines from Woodstock Power, you get a turnkey power solution that will ship to your facility immediately with no lead time. We also partner with top power equipment experts around the country who can assist you with installation, power consumption planning and more.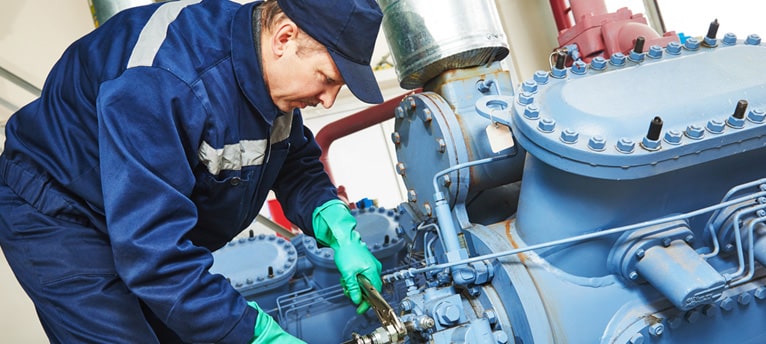 The Best Place to Sell Industrial Generators and Engines
Woodstock Power also pays top dollar for good working equipment. We pay 100-percent upfront for used diesel and gas industrial power generators ranging from 25kW to 2500kW. And you don't have to worry about shipping your generator to us. We'll arrange convenient pickup at your facility. What's more, our close relationships with companies across the U.S. enables us to provide additional turnkey services for sellers such as decommissioning data centers, site preparation and complete gutting of facilities.
Virtually every industry requires a reliable source of electrical power to conduct its operations. In some situations, such as during a power outage or when working at a remote job site, electricity from the grid may not be available. Commercial generators can deliver power on demand whenever or wherever it's needed.
What Is a Commercial Generator?
A commercial generator, also referred to as a backup or standby generator, is a self-contained mechanical unit that can produce electricity without being connected to the power grid. When a power loss occurs, the generator will activate automatically within seconds to prevent an extended interruption. Portable units are also available that offer the advantage of mobility.
What Are Commercial Generators Used For?
There are many commercial generator applications, such as:
Delivering emergency power during a weather event
Supplying additional power if the main power supply does not meet the demand for an application
Providing electricity for lighting at outdoor events
Generating power for storage units that contain perishable items
Industry Applications for Commercial Generators
Examples of specific industries with commercial generator applications include:
Agriculture: Powering farming equipment in the field
Construction: Providing electricity at remote job sites to operate tools and equipment
Data centers: Ensuring that data centers and computer rooms can continue to execute mission-critical functions
Education: Enabling schools and universities to keep classes on schedule during an outage
Facilities & businesses: Serving as a dependable source of backup power to avoid disruptions to normal operations
Grow rooms: Meeting the power demands of marijuana growing facilities
Hospitality: Maintaining guest comfort at hotels and resorts
Hospital & healthcare: Delivering essential power to keep patients safe
Oil & gas: Generating power for remote drilling sites
Property management: Making sure tenants always have electrical power
Telecom: Providing emergency backup power for cell phone towers
Types of Commercial Generators
The most common types of equipment used in commercial generator applications include:
Diesel: Diesel-powered generators are extremely fuel-efficient and easy to maintain. The lower operating expenses typically offset the higher cost of diesel fuel, making these generators a cost-effective power solution.
Gas: Natural gas is readily available via pipelines, which eliminates the need to store fuel for generators. It's also a clean-burning fuel, which appeals to companies concerned about protecting the environment.
Portable: Towable generators provide a mobile power generation solution for remote job sites that don't offer access to electricity from the grid.
Why Should Your Business Have a Backup Generator?
A dependable generator will ensure you can execute your mission-critical processes in the wake of a power outage, helping you avoid unproductive downtime. You can continue to serve your customers and keep your employees safe. Generators can also prevent the loss of data and keep the lines of communication open during an emergency.
Contact Woodstock Power for Your Commerical Generator Needs
Woodstock Power offers a wide selection of high-quality used commercial generators that can save you up to 70 percent over the cost of new equipment. Contact us to learn more about commercial generator applications today.