Site Conditions to Consider During Generator Selection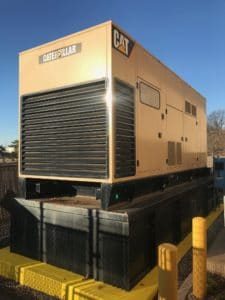 During generator selection, there are many factors to take into consideration. For instance, the role of the generator will help to determine generator size and power needed. If needed as backup for mission-critical operations, certain types of generators will be better suited for your needs. If you already have a designated generator room, generator room requirements will also help to determine what size generator will fit at your site. Site conditions, such as local temperatures and humidity levels, shouldn't be overlooked and can have a great impact on your final generator choice as well.
Generator Selection: Site Conditions to Keep in Mind
Keep in mind the following site conditions when contemplating generator selection:
Available Fuel Types: For remote sites, certain fuel types may not be readily available. This will have a major impact on your generator selection as generators run on certain fuels may not be appropriate for your site. For example, portable propane-fueled generators are often used for hard-to-reach, remote sites that may not have a direct pipe for natural gas or other methods of refueling.
Site Temperatures: Extreme temperatures, hot or cold, need to be taken into account when purchasing a new generator.
Altitude: At altitudes above 3,281 feet, generators may need to be derated before installation.
Ambient Conditions: Consider ambient conditions such as the maximum temperature of the cooling air as it enters the unit. If your generator installation will exceed temperatures of 104 degrees Fahrenheit, a generator may need to be derated before being suitable for your location.
Other Conditions: Other site conditions to bear in mind include if there's an extreme amount of humidity at your site and whether or not your site has a corrosive environment. These kinds of extreme conditions can pose challenges for the functionality of generators and should be discussed with a professional before a generator is purchased.
By being aware of the site conditions of your particular location, you will be prepared to discuss your needs directly with manufacturers or distributors of generators. Particular site conditions may make certain models more appropriate for your needs; stay knowledgeable about your site conditions for maximum efficiency and effectiveness of your new unit.