The Basics: Generator Concrete Pads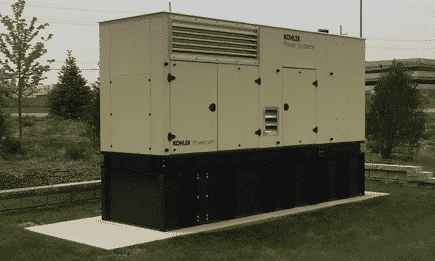 In order to keep generators working properly and up to code, it needs to sit up and away from mud and dirt, which can be achieved by planning and installing a concrete pad. A concrete pad is the best option for a stable and clean environment for your commercial generator system. A concrete pad used as a foundation for your generator is created specifically for the shape, size, footprint and weight of your generator.
An undersized pad can cause many problems, including:
Insufficient space to safely install your generator
Inadequate room for access and maintenance
Overloading of your pad (this could lead to cracking)
Legal and regulatory non-compliance issues
Possible fines or enforced generator shutdown
Learn the purpose of concrete generator pads here
Planning Your Generator Concrete Pad
Once you have determined the type and size of the generator, then you want to move into the planning process. Be sure to take time and study the potential foundation layout for your concrete pad. Also, be sure to invest in ensuring you have a high-quality pad that is adapted to the size and position of your new commercial generator to be installed.
Concrete pad foundations must be expertly constructed in terms of thickness. Concrete pads are carefully calculated for the perfect thickness of concrete, so the generator pad does not crack. If the generator pad is too thin or too thick, there is a higher possibility of the generator pad cracking, which can result in not only damage to your generator, rendering the generator inoperable, but it can also result in legal & regulatory issues that can include fines and a shutdown of the generator from continued operations.
GENERATOR SET VIBRATIONS
Concrete generator pads will more than likely require vibration isolators. These ensure vibrations created by your generator are not transmitted into your facility, where they can disrupt sensitive equipment and your employees. When designing the concrete foundation, precise calculations can help determine the vibration specifications to your generator and take into account any vibration isolation requirements.
Generators produce vibrations for numerous reasons, including combustion forces and torque reactions. Generator vibration results in undesirable conditions like loud, unwanted noise and even generator failure. There are two types of vibration you should account for when planning your generator pad:
Torsion: Torsion vibration occurs when combustion forces on the crankshaft are transmitted to the rotating mass. This type of vibration can often be prevented when the engine and generator are properly matched.
Linear: Linear vibration is typically the result of shaking or loose machinery, causing noisy vibrations and rattling. It can be caused by several things, which are often hard to determine without the proper instruments.
Because these vibrations can be disruptive and result in damage if unmanaged, generator isolators help isolate the vibrations to the generator pad. There are a couple of different isolator options, including:
Bulk isolators: Bulk isolators tend to be more costly and elaborate than other options. This method includes mounting the generator on a block surrounded by fiberglass or cork to separate it from the pad and any other surrounding structures.
Spring isolators: Spring isolators are often the most common type because they can isolate almost all vibrations without needing a block. Spring isolators are mounted directly under the generator's feet for the most effective results.
Rubber pads: Another less popular option is to use rubber pads in addition to concrete pads. The rubber helps muffle high vibration frequencies.
Some generators won't vibrate as much as others, so a simple rubber pad may suffice in some situations, while others will require a more reliable method like spring isolators. Your choice will also likely depend on your need to reduce the vibrations. Determine which type of isolator will work most effectively with your generator so you can account for it when planning the size of your concrete generator pad.
Location
The placement of the generator is vital when it comes to mounted stationary generators. Unless you designate a space within the facility for the generator — known as a generator room — there are generally only two other options for placement. They will be installed either outside of the building on the facility premises or on the roof of the building.
If placed outside of the building within the facility's premises, be sure to survey the installation area. If the ground is unstable or is prone to shifting (gravel beds, sand, etc), then you will need to look for another area to install the concrete pad. If the area is often wet and prone to flooding, it will not be a suitable location to install a stationary generator. While there are arguments that the concrete pad can help raise the generator higher, even in flood-prone areas, water can often exceed those heights dependent on geographical location and temperature climate.
When surveying the property for an appropriate location to install a generator, look for the highest possible ground with the most stable foundation. The area should also be level, with any downhill grades leading away from the installation site to prevent standing water from pooling up under your generator. Additionally, a quality enclosure will help weatherproof your generator from the elements and protect it from unnecessary wear & tear.
If the generator must be installed on the roof, then make sure that the structure is able to support the weight of the generator set and also consider the following:
Load-Bearing Requirements: Be sure to factor in the total weight of the fuel tanks, batteries, radiators, generator concrete pads, any/all accessories, and be sure to add in the total weight of the generator together.
Accessibility: The generator should be easily accessible for technicians to perform routine tests, checks, maintenance and testing, as well as any service work that must be conducted.
Security: Make sure the generator is installed away from access to the general public to prevent unauthorized access.
Fire Codes: Any and all applicable local fire codes, building and zoning laws must be followed, especially NFPA 37. This code ensures that any engine, like that of your generator, was installed correctly and won't create a fire hazard. If followed, NFPA 37 works to minimize the chances of a fire and give you the resources to contain a fire from spreading. This guideline is especially important if you're installing a generator on the roof, which could leave the entire building susceptible to a potential fire.
Generator Pad Construction
Concrete is the most commonly used material for a generator pad foundation. While there are some variations, such as timber construction wood framing filled with gravel, concrete provides the most stable base and higher durability. Gravel will shift over time and will need to be replenished or re-leveled from time to time or debris can get caught in the gravel.
As mentioned above, the total weight of the generator and all components must be carefully calculated in order to safely and properly construct the pad.
Calculate Generator Concrete Pad Weight:
Standard calculations for determining the weight of the concrete pad can be found by multiplying the number of cubic feet in its volume (length x width x height) by 150 pounds. After determining the weight of the concrete pad, be sure to confirm that the weight is within load-bearing limits of the installation location.
Generator Concrete Pad Specifications:
Standard load-bearing requirements should be followed when considering the mounting pad composition.
Generator Concrete Pad Mixture:
Recommended mixture by volume is 1:2:3 parts of cement, sand and aggregate.
Conduit Entry:
When mounting the generator on the concrete pad, make sure necessary provisions are made to receive the electrical conduit. An area where the cables come through, called a "stub-up," must be optimally placed to the generator set's load and control terminal connections.
Constructing a generator pad for your commercial generator is a process that requires precise and accurate calculations. There are many factors and considerations that must be calculated into the design and planning, before the actual installation process. While many will elect to attempt the installation on their own, it would be best to contract an experienced professional who specializes in generator foundations and concrete pad construction.
HOW CONTRACTORS MAKE A CONCRETE PAD FOR A GENERATOR
Before you can have a generator installed, you need to work with licensed professionals who can build a concrete pad as a base. Planning is only part of the process. Before beginning, you'll want to make sure you have zoning and construction approvals There are multiple steps included in the construction of a concrete pad that can vary depending on your situation and needs.
1. CREATE A BASE
The first step in building a concrete pad is to create a base. Once you decide on a sturdy spot for a foundation, the concrete finishers will dig a hole the size of your slab that's at least four inches deep. Most contractors use a frame and take measurements to ensure that the base is the correct size.
This part of the process also involves adding a layer of gravel on top of the soil and compacting it into the ground. This will establish a sturdy foundation for the concrete pad so that it stays securely in place.
2. MIX THE CONCRETE
The next step calls for a hoe, wheelbarrow and some safety gear to mix the concrete. Trained professionals use gloves, a mask and safety goggles to protect their skin and eyes from burns while the concrete is still wet.
The concrete finishers then add water to the concrete mix and work at it with a hoe until the mix is wet and shiny. If the mix starts to become too fluid or runny, additional dry mix may be needed to ensure it solidifies properly.
3. POUR THE CONCRETE INTO THE BASE
Before adding concrete to the base, a professional needs to line the foundation with a wooden frame so that the mix retains its shape while it dries. The average concrete pad is about four to five inches thick, so the frame should be high enough to contain it.
The applicators then pour the concrete onto the base, completely covering the gravel below. They'll continue pouring concrete until it's level with the wooden frame surrounding the base.
4. SMOOTH AND SHAPE THE CONCRETE
The next step in the process is to screed the wet concrete to ensure it's flat. This takes care of any lumps or extra concrete so that the generator can sit on it properly. With a long board or tool with a straight edge, it's easy to scrape away the excess on top.
The professional applicator also smooths over the concrete after leveling it. A concrete float is designed to smooth the surface and eliminate pad imperfections. After flattening and finishing the design, the applicator uses an edging trowel to shape nice concrete edges.
5. ALLOW THE CONCRETE TO CURE
The last part of the process is to spray the concrete pad and let it cure. This takes up to a week in most cases. Once the slab has had time to cure and dry, your contractors can remove the wooden frame from the edges and install your generator. With a solid concrete pad beneath it, your generator will have a safer, more stable environment to deliver the power you need.

The Woodstock Power Company Experience
We have industry experts that focus on commercial generator sets, with in-depth industry knowledge to help you choose the right generator that fits your needs.
We are industry leaders in buying and selling used generators to fit the needs of many businesses, including commercial, industrial, medical, agricultural, and university. This includes facilities like hospitals, better living centers, nursing homes, airports, hotels, resorts, restaurants, retail centers, manufacturing, production, and more.
Our knowledgeable experts can help you with anything, from answering any questions you may have about power generator sets to assisting you with our inventory based on things like:
Available space and exhaust restrictions
Peak and average power requirements
Prime and standby generator requirements
Fuel preference (natural gas or diesel)
Portability and stationary power
We carry only the most top-rated new, used and surplus power generator sets for sale, providing you with a great value generator that will fit your budget.
Our generators have been thoroughly inspected, serviced and verified, which ensures that you will be buying a quality generator that you can depend on. If a generator is not up to par with industry standards, we make all necessary repairs or modifications and fully test every generator before we sell. This ensures a full turnkey generator that's ready to fire up and go!
Due to our wide selection of generator sets, we're confident that we can find the model that best suits your operational needs and budget.
We also buy used generators in good quality, if you have already upgraded and you're looking to sell your older model.
Feel free to contact us with any questions, concerns or inquiries to learn more about the Woodstock Power Company experience and the quality level of products and services we provide.
Follow us on LinkedIn, YouTube, Facebook, and Twitter for more info about commercial generators!