What are the Requirements for Hospital Backup Generators?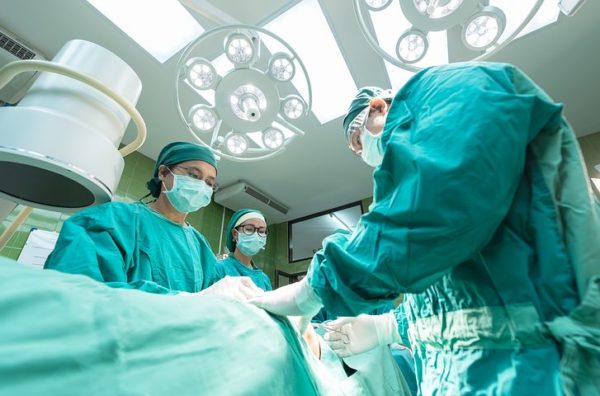 Hospitals consume a lot of energy. According to the 2003 Commercial Building Energy Consumption Survey (CBECS), hospitals accounted for less than 1% of all commercial buildings. However, they consumed 4.3% of the total delivered energy used in the commercial sector. In addition to being a large application, hospital backup generators are required by law. Can you imagine if power could not be restored to a hospital? In order to prevent this unfathomable idea, a hospital backup generator needs to meet various requirements and standards. Below you'll find a brief summary of those standards, and where to find additional information.
Basic Requirements for Hospital Backup Generators
Standards for hospital backup generators can be found in National Fire Protection Association (NFPA) Life Safety Code, or NFPA 101. Along with other information, this document lists the legal regulations & requirements for facilities that house patients on life-support systems. The most basic requirements for backup generators include:
Maintain and test the circuitry
Hire and train qualified personnel to repair and maintain generators
The document also specifies how maintenance ought to be done, and various other necessary qualifications. 
Two Categories for Hospital Backup Generators
As a medical facility, your generator will fall into one of the following two standard categories, according to the NFPA.
NFPA 99 – This code regards generators as part of the essential electrical system (EES). This applies to hospital backup generators (and other electrical components) connected to the existing electrical system. The EES are further broken down into three types. All hospitals with an EES must conform to Type 1 system requirements. You can find more information here.
NFPA 110 – This code treats generators as part of an emergency power supply system (EPSS). Two additional definitions will help here:
Emergency Power Supply (EPS): The source of electric power for an EPSS.
Emergency Power Supply System (EPSS): The entire electrical system, including conductors, protective devices, transfer switches, and more. The EPS powers the EPSS.
These distinctions are essential to the code. Last, there are two levels to the code. Level 1 systems are mandatory if loss of power could result in the loss of human life. Level 2 systems are mandatory when EPSS failure does not risk human life.
Testing and Maintenance
Regardless of which code your hospital backup generator falls under, routine maintenance is compulsory. Here's a few guidelines to maintenance:
Manuals: Two sets of detailed instruction manuals required on site.
Standards: All testing operations need to follow all official performance regulations and guidelines.
Tools: Correct tools for testing and maintenance must be available on site.
Personnel: Only qualified, trained staff can perform testing and maintenance.
Weekly Inspections
Monthly Testing
You should also keep the backup hospital generator in a part of the campus only accessible to authorized personnel. 
Standards for Emergency Power
The most essential element to standards for hospital backup generators is response time. Patients on life support cannot afford a moment without the electricity necessary to power those machines. Currently, hospital standby power must activate within no greater than ten seconds. Furthermore, hospitals must store enough fuel on-site to keep generators running for a total of 96 hours, in case a power outage lasts for days.
If you follow the testing and maintenance guidelines listed above, there should be no cause for concern here. Routine inspections and testing ensures, not only that you meet standards, but also the safety of every employee and patient in the hospital.
Be Prepared
No one can number the risks of losing power in a hospital. However, you can take various steps to ensure you and your hospital backup generator are prepared. Here are a few…
First, as mentioned above, meet all the necessary standards. Not only will you follow the law, prevent potential lawsuits, and maintain a safe working environment, but you could even save the lives of those in the hospital.
Second, performing weekly inspections assures that trained staff identify potential problems, necessary repairs, and the like BEFORE something catastrophic happens.
Third, conducting monthly tests is the other half of what weekly inspections can do. By regularly running tests, potential issues can be identified early.
Fourth adequate training for staff is critical.
Fifth, as mentioned earlier, the position of your hospital backup generator is important. Do not keep your generator on the rooftop or in a basement, but nevertheless ensure it is safe from various types of weather, especially flooding. Sound-attenuated enclosures are a great way to help weatherproof your generator and protect it against the elements. Also, guarantee only authorized personnel can access it to prevent others from tampering with the generator or causing damage to the generator equipment.
Last, when lives depend on a hospital backup generator, you need to have enough fuel to keep things running. Natural gas generators are heavily used, because they are connected to the natural gas pipeline. The downside to the use of natural gas generators is that in certain natural disasters, such as tornadoes or earthquakes, the gas company may shut off the gas fuel supply to prevent potential outbreaks of fires or explosions. Diesel generators are a popular choice for backup power solutions, but require a diesel base tank and regular refueling to maintain operation.
Additional resources can be found below:
In a mission-critical environment such as a hospital or emergency room, the loss of power due to power outage can cripple all life-saving efforts and endanger not only patients, but employees as well. If you are considering installing a generator or upgrading your existing generator, but are finding it difficult to navigate through the process, please reach out to us at Woodstock Power Company.
Give us a call or send us an email: 610-658-3242 or sales@woodstockpower.com
Additionally, you can fill out our Contact Form with any questions or inquiries and our representatives will get right back to you.
THE WOODSTOCK POWER COMPANY EXPERIENCE
We have industry experts that focus on commercial generator sets, with in-depth industry knowledge to help you choose the right generator that fits your needs.
We are industry leaders in buying and selling used generators to fit the needs of many businesses, including commercial, industrial, medical, agricultural, and university. This includes facilities like hospitals, better living centers, nursing homes, airports, hotels, resorts, restaurants, retail centers, manufacturing, production, and more.
Our experts are ready to assist you from answering any questions you may have about power generator sets to help you find the best selection in our inventory based on:
Peak & Average Power Requirements
Fuel Preference (Natural Gas or Diesel)
Portability & Stationary Power
Prime & Standby Generator Requirements
Available Space & Exhaust Restrictions
We carry only the most top rated new, used, and surplus power generator sets for sale, providing you with a great value generator that will fit your budget.
Our generators have been thoroughly inspected, serviced, and verified, which ensures that you will be buying a quality generator that you can depend on. If a generator is not up to par with industry standards, we make all necessary repairs or modifications, and fully test every generator before we sell. This ensures a full turnkey generator that's ready to fire up and go!
Due to our wide selection of generator sets, we're confident that we can find the model that best suits your operational needs and budget.
We also buy used generators in good quality, if you have already upgraded and you're looking to sell your older model.
Feel free to contact us with any questions, concerns, or inquiries to learn more about the Woodstock Power Company experience and the quality level of products & services we provide.