NFPA 110 Standards and Generator Compliance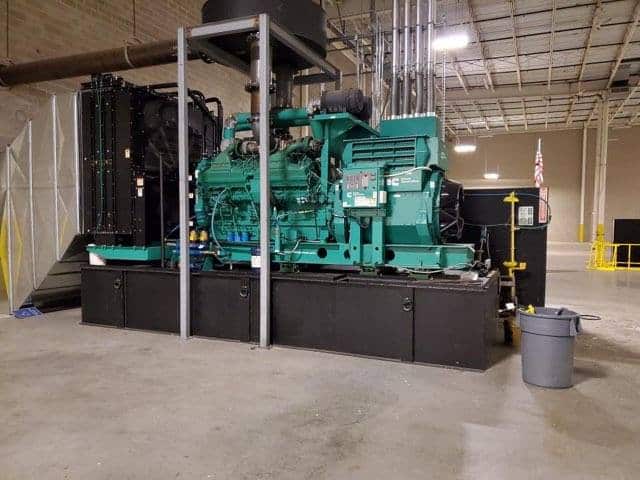 In events of power outages caused by natural disasters such as hurricanes, tornadoes, earthquakes, wildfires, man-made disasters such as downed power lines or utility poles caused by vehicular accidents, even your friendly neighborhood squirrel, backup generators are often installed within buildings and facilities to provide backup power to ensure key systems and operations can continue even when power to the main utility grid is disconnected.
When considering a backup generator for your business or facility, there are many factors that need to be reviewed before moving onto the next step in the process.
While we usually cover considerations when purchasing a backup generator such as fuel type, kW rating (power output), and applications, another important factor that should be considered is a standard known as NFPA 110. NFPA 110 is a standard created by the National Fire Protection Association that covers performance requirements pertaining to emergency and standby power systems that provide an alternate source of electrical power in buildings and facilities in events where the normal electrical power source fails.
While this may seem like a good amount of information to take in, when breaking down the standard regarding backup generators for buildings and facilities – NFPA 110 can be considered a guideline of requirements that backup generators must meet when power to the main electrical grid fails or is disconnected, and generator power is required.
When working on NFPA 110 compliance, generators are classified as an Emergency Power Supply or EPS for short, which is part of a larger system known as an Emergency Power Supply System or EPSS.
The NFPA 110 standard includes all systems including power sources, transfer equipment, controls, supervisory equipment, and accessories needed to supply electrical power to selected circuits.
When assessing NFPA 110 compliance and Emergency Power Supply Systems, it is important to understand that there are 2 levels of EPSS classifications. These classifications are defined by level, class, and type.
Level 2 Emergency Power Supply System (EPSS) requirements pertain to less critical situations where lives are not at risk. Level 1 Emergency Power Supply System (EPSS) requirements include everything in Level 2 EPSS, but also include situations where power failure will result in loss of human life or serious injuries.
Level 1 Emergency Power Supply System (EPSS) requirements pertain to critical situations where lives are at risk or there is risk of serious injuries. For this reason, Level 1 EPSS must meet stricter guidelines in comparison to Level 2 EPSS.
With that in mind, it must be stated that NFPA 110 does not specifically detail which applications pertain to Level 1 or Level 2 EPSS requirements.
NFPA 110 also has class requirements for generators based on the type of equipment that needs to be powered. Usually this is measured by the amount of time a generator needs to run or how long it can run without needing to be refueled. For example, an NFPA 110 Class 2 may require the generator to run for 2 hours, while Class 6 may require 6 hours. Location, business type, and scale of any business operations can also affect the generator class required for NFPA 110.
Lastly, generators for NFPA 110 are also classified by type. Type is classified by how long it takes for the generator to start and begin delivering emergency power for either Level 1 or Level 2 applications. While some systems are designed to provide power within a couple of seconds, there are other systems that may have a delay greater than 2 seconds or have no automatic start function at all. Generator selection will largely be based around the NFPA 110 EPSS level required.
While this covers the general basics of NFPA 110 and how generators must be in compliance with this standard, there are many moving parts and pieces involved. More information can be found on the NFPA website.
If you have questions, would like to learn more about generators and NFPA 110 compliance, or would like some consultation on an EPSS installation regarding NFPA 110, feel free to reach out to us at Woodstock Power Company!
Give us a call or send us an email: 610-658-3242 or sales@woodstockpower.com
Additionally, you can fill out our Contact Form with any questions or inquiries and our representatives will get right back to you.
THE WOODSTOCK POWER COMPANY EXPERIENCE
We have industry experts that focus on commercial generator sets, with in-depth industry knowledge to help you choose the right generator that fits your needs.
We are industry leaders in buying and selling used generators to fit the needs of many businesses, including commercial, industrial, medical, agricultural, and university. This includes facilities like hospitals, better living centers, nursing home, airports, hotels, resorts, restaurants, retail centers, manufacturing, production, and more.
Our experts are ready to assist you from answering any questions you may have about power generator sets to helping you find the best selection in our inventory based on:
Peak & Average Power Requirements
Fuel Preference (Natural Gas or Diesel)
Portability & Stationary Power
Prime & Standby Generator Requirements
Available Space & Exhaust Restrictions
We carry only the most top rated new, used, and surplus power generator sets for sale, providing you with a great value generator that will fit your budget.
Our generators have been thoroughly inspected, serviced, and verified, which ensures that you will be buying a quality generator that you can depend on. If a generator is not up to par with industry standards, we make all necessary repairs or modifications, and fully test every generator before we sell. This ensures a full turnkey generator that's ready to fire up and go!
Due to our wide selection of generator sets, we're confident that we can find the model that best suits your operational needs and budget.
We also buy used generators in good quality, if you have already upgraded and you're looking to sell your older model.
Feel free to contact us with any questions, concerns, or inquiries to learn more about the Woodstock Power Company experience and the quality level of products & services we provide.