Risks of Purchasing a Used Diesel Generator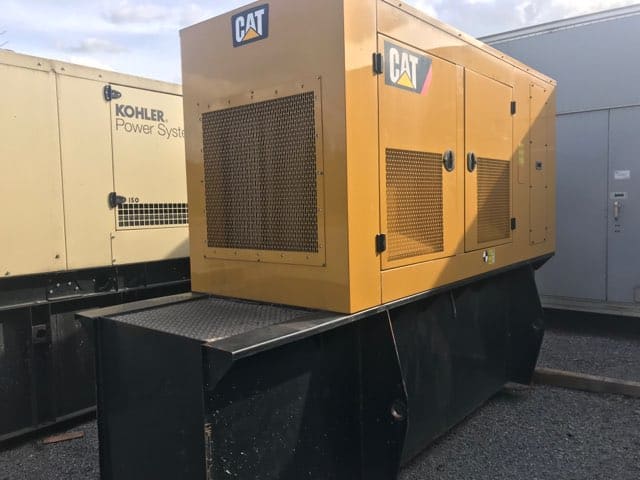 Purchasing a used commercial generator can be a huge benefit to many businesses, as it is a more cost-effective method to acquire a reliable backup power source when the primary power source (or main power source) from the power grid goes down, resulting in a power outage.
Commercial generators can serve a variety of uses, such as backup power for business operations, industrial applications, mining operations, grow operations, off-grid construction sites, facilities such as data centers, hotels, resorts, restaurants, hospitals, better living centers, nursing homes, and the list goes on.
While there are many benefits to purchasing a used commercial generator, there are a few key items that must be carefully reviewed before moving forward with the used generator purchase. In addition to items that must be reviewed and considered, there are also risks involved with a used generator purchase.
There are many used generators put out on the market for many different reasons. Some diesel generators are sold on the market as part of asset recovery efforts or some companies may upgrade their existing generator for a newer model and want to recover some of their expenditures. More often than not, these generators have low hours, have been well-maintained, regularly serviced, and are in excellent running condition.
On the other hand, there are companies who have diesel generators that have been poorly maintained, not serviced regularly, and are in poor condition who are seeking to sell their generators for whatever profit they can make from it.
This leads us to the key items that must be reviewed before making a generator purchase:
Age
What is the year of the manufactured date? Age can play a role not only in assessing what service, maintenance, or upgrades may be needed after purchasing the diesel generator, but it will also help determine whether or not the diesel generator will meet EPA regulations and compliance standards within your region.
More information regarding EPA regulations can be found here:
Hours
The number of hours a generator has on record is important, as it is a sure sign of how much the generator has been used. The general rule of thumb when it comes to generators and hours used are simple. The lower the hours, the less the generator has been used. Commercial generators have engines that can be similarly compared to a car engine. Where a car engine has an odometer reading, a generator engine has hours.
Usage
If possible, it is also a good habit to find out what the generator was primarily used for. Was the generator strictly used for standby applications in the event of a power outage? Or was the generator used for prime/continuous operations? Standby generators will usually have less wear and tear in comparison to generators used as a prime power source.
Service & Maintenance
In an ideal situation, before you buy a used generator, you should be able to request any and all service records associated with the generator purchase in question. Service records could be a clear indicator of whether or not the generator has been well-maintained and regularly serviced to ensure that it has been kept in good, running condition. Although that would be an ideal situation, it is often not the case. In the event that the generator does not have any service or maintenance records for the generator purchase, the next best thing to do is talk to the seller that cover specific details. Inquire about their knowledge of maintaining or servicing generators and generator engines, power units, any transfer switches or controls, and generator ends. See if they have service or maintenance processes in place, evaluate the scope of the knowledge, such as if they handle generator installation or generator decommissioning and removal services, as well as if they have certified technicians and service staff that evaluate and work on the generators themselves.
Load bank tests are also a great indicator to validate whether or not a commercial generator is running at the correct operational performance. A load bank test consists of running the unit at 100% to ensure that peak operating temperatures are reached and sustained long enough to reveal any problems within the system. This testing process usually takes up to four hours to reach operating temperatures and two hours for the actual testing process.
Load bank testing also can help in identifying signs of wet-stacking, which is a common condition in generators that are routinely run at a small percentage of their rated power. Running the generator at 100% during the test helps remove the effects of wet-stacking, like carbon build up and black smoke.
Brand Manufacturer
Regardless of the product or service, customers tend to stick with a reputable brand that they can trust and rely on to meet a certain level of quality and expectations. A commercial generator is no different. A commercial generator is a costly investment that you eventually may or may not need to rely on as a reliable power source for your business, operations, applications, or facilities. Although commercial generators are costly, this is one area that you do NOT want to cut corners by purchasing a generator that is of an untested or unknown brand. It's always best to purchase a generator from a highly trusted brand that is well-known, has been tested over time, and has been proven themselves over the years and withstood the test of time in terms of quality and durability. An additional benefit of purchasing a generator with a well-known brand is that there are more options available for support, such as parts and service needs.
A list of some of the most trusted brands include:
Manufacturer Warranty
The biggest risk most potential customers face when looking for a commercial generator  is the lack of manufacturer warranty. When purchased brand new, commercial generators get brand manufacturer warranty that will cover costs of generator failure, part failure, or service needs to help offset the cost and burden of servicing a commercial generator.
Although purchasing a used generator will most likely not include any manufacturer warranty, if you buy a commercial generator from a reputable dealer, you can rest assured that you will be buying a generator that has been run through rigorous testing processes and include any service of maintenance needed before it ships out.
Dealer Reputation
Purchasing a commercial generator from a reputable dealer can help simplify the process of selecting a generator and making the purchase. There are many websites out there and fake sellers on platforms like Craigslist that attempt to scam customers that are looking to make a generator purchase. Reputable dealers usually not only possess industry-specific knowledge on generators from all brands and power output ratings. These same dealers usually have processes in place that ensure all generators that they purchase, whether new or used are fully tested, serviced, and maintained before listing the item up for sale. Reputable dealers also have in-house certified technicians that have experience in the industry to troubleshoot and identify any potential issues that the generator may experience. Most dealers also do their best to accurately determine what the generator's main use was, focus on verifying the hours, assess the condition, and sell the generator at a fair price point. If there is any service or repair work needed, reputable dealers more often than not maintain records of what type of work was done to the generator to ensure that they are selling a quality piece of equipment to potential customers.
Conclusion
There are many items and risk factors to consider before purchasing a used diesel generator. If you have any questions, are looking for a used commercial diesel generator for your business operations, industrial applications, or facilities, such as data centers, hospitals, hotels, resorts, restaurants, or commercial properties, please reach out to us at Woodstock Power Company! We specialize on buying, selling, and leasing new, used, surplus, and rental generators with industry experts that can help you through the purchasing process.
Give us a call or send us an email: 610-658-3242 or sales@woodstockpower.com
Additionally, you can fill our our Contact Form with any questions or inquiries and our representatives will get right back to you.
The Woodstock Power Company Experience
We have industry experts that focus on commercial generator sets, with in-depth industry knowledge to help you choose the right generator that fits your needs.
We are industry leaders in buying and selling used generators to fit the needs of many businesses, including commercial, industrial, medical, agricultural, and university. This includes facilities like hospitals, better living centers, nursing home, airports, hotels, resorts, restaurants, retail centers, manufacturing, production, and more.
Our experts are ready to assist you from answering any questions you may have about power generator sets to helping you find the best selection in our inventory based on:
Peak & Average Power Requirements
Fuel Preference (Natural Gas or Diesel)
Portability & Stationary Power
Prime & Standby Generator Requirements
Available Space & Exhaust Restrictions
We carry only the most top rated new, used, and surplus power generator sets for sale, providing you with a great value generator that will fit your budget.
Our generators have been thoroughly inspected, serviced, and verified, which ensures that you will be buying a quality generator that you can depend on. If a generator is not up to par with industry standards, we make all necessary repairs or modifications, and fully test every generator before we sell. This ensures a full turnkey generator that's ready to fire up and go!
Due to our wide selection of generator sets, we're confident that we can find the model that best suits your operational needs and budget.
We also buy used generators in good quality, if you have already upgraded and you're looking to sell your older model.
Feel free to contact us with any questions, concerns, or inquiries to learn more about the Woodstock Power Company experience and the quality level of products & services we provide.