Key Benefits of Generators for Disaster Response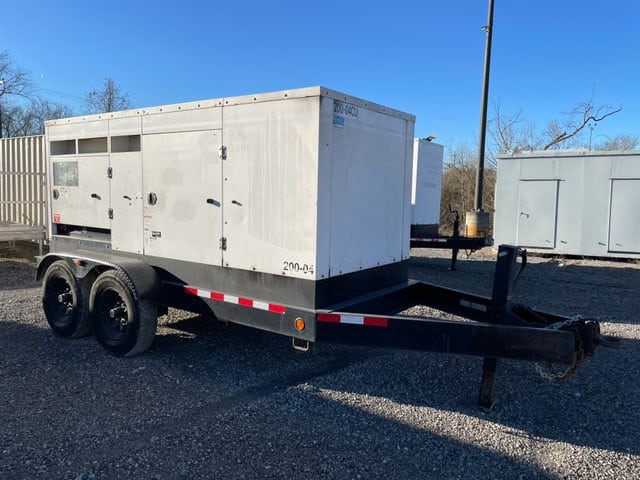 With an increase of natural disasters, such as earthquakes, hurricanes, tornadoes, blizzards, severe storms, and lately wildfires, these events often result in power outages. Many states and local municipalities have been increasingly revamping planning and strategies to better respond to these disasters, but more often than not – backup generators play a key role in helping the recovery process.
When most people think about a backup generator (known within the industry as a standby generator), they often think the main role of the generator is to power lights to a building. Backup generators play a key role in multiple facets of disaster response that extend beyond just simply keeping the lights on. When it comes to power outages due to natural disasters, buildings that are left intact or have been designated evacuation zones can utilize backup generators to not only power the lights, but also power HVAC systems and other key systems & equipment that can keep evacuees safe and comfortable. Backup generators can also provide power to cooking appliances to help heat and distribute food to evacuees.
Backup generators are also vital when it comes to water and sewage treatment facilities, as well as other mission critical applications such as medical facilities and hospitals to ensure that clean drinking water is still available and that any patients resulting from any injuries related to a natural disaster can be treated immediately in the event of a power outage.
For municipalities that are creating an infrastructure for recovery, priority may be placed on utilities and the aforementioned facilities, but also for food storage facilities. Clean water, medical care, and sustenance play a large part in disaster response and recovery efforts. This is especially important, since food storage facilities can ensure that food supplies intended for emergency response and recovery efforts can keep from spoiling and be readily available for deployment to recovery areas.
More often than not, these evacuation zones are equipped with a backup generator installed on-site known as a stationary generator, but what happens when the building used as an evacuation shelter is damaged or the generator may be rendered inoperable due to a catastrophic disaster? This is where portable generators come into play.
Portable generators can be quickly deployed on-site during recovery efforts and can be easily removed when the recovery process has reached a more stable phase. What differentiates portable generators from stationary generators is the fact that they are trailed mounted and produced with the intent of wheeling the generator around from site to site. These portable generators enable much more flexibility and versatility when compared to a stationary generator and can be a great asset during disaster response and recovery efforts.
For example, suppose that a natural disaster causes a widespread outage or the damage is severe. Disaster response teams may install temporary emergency shelters for evacuees. At times, if needed, temporary field hospitals may be installed to help treat a large influx of patients that may require urgent care. In this instance, portable generators can help power key equipment that is needed not only to maintain the health and well-being of evacuees, but can also power life-saving equipment treat patients that require critical medical services. In most cases, multiple portable generators can be brought into the area to power different applications to meet various needs at once, which brings a great advantage over one single stationary generator.
An added benefit with portable generators are that they can be rented out from generator dealers. This allows for flexible, cost-effective, short-term payment plans to secure temporary backup power without having to invest in installed a permanent backup power solution such as a stationary generator. The process is usually simple – you can either work with a generator dealer to make reservations on a fixed number of units and have generators deployed when needed or you contact a dealer at the time of disaster response (though this is often not a recommended option, due to possible limitations in availability). The portable generator rental will usually be delivered to your location and will be picked up from the site when the tasks are completed.
More information on the two generator types, including pros and cons can be found here:
While there are many reasons why a backup generator should be a key consideration for any disaster response and recovery plan, these are often some the most critical situations that could come into play.
If you're in disaster response and recovery management or simply planning on disaster recovery efforts for your municipality and looking to learn more about backup generators that may work for you or if you're looking to purchase a backup generator, please reach out to us at Woodstock Power Company.
Give us a call or send us an email: 610-658-3242 or sales@woodstockpower.com
Additionally, you can fill out our Contact Form with any questions or inquiries and our representatives will get right back to you.
THE WOODSTOCK POWER COMPANY EXPERIENCE
We have industry experts that focus on commercial generator sets, with in-depth industry knowledge to help you choose the right generator that fits your needs.
We are industry leaders in buying and selling used generators to fit the needs of many businesses, including commercial, industrial, medical, agricultural, and university. This includes facilities like hospitals, better living centers, nursing home, airports, hotels, resorts, restaurants, retail centers, manufacturing, production, and more.
Our experts are ready to assist you from answering any questions you may have about power generator sets to helping you find the best selection in our inventory based on:
Peak & Average Power Requirements
Fuel Preference (Natural Gas or Diesel)
Portability & Stationary Power
Prime & Standby Generator Requirements
Available Space & Exhaust Restrictions
We carry only the most top rated new, used, and surplus power generator sets for sale, providing you with a great value generator that will fit your budget.
Our generators have been thoroughly inspected, serviced, and verified, which ensures that you will be buying a quality generator that you can depend on. If a generator is not up to par with industry standards, we make all necessary repairs or modifications, and fully test every generator before we sell. This ensures a full turnkey generator that's ready to fire up and go!
Due to our wide selection of generator sets, we're confident that we can find the model that best suits your operational needs and budget.
We also buy used generators in good quality, if you have already upgraded and you're looking to sell your older model.
Feel free to contact us with any questions, concerns, or inquiries to learn more about the Woodstock Power Company experience and the quality level of products & services we provide.