Importance of Backup Generators for Hospitals & Healthcare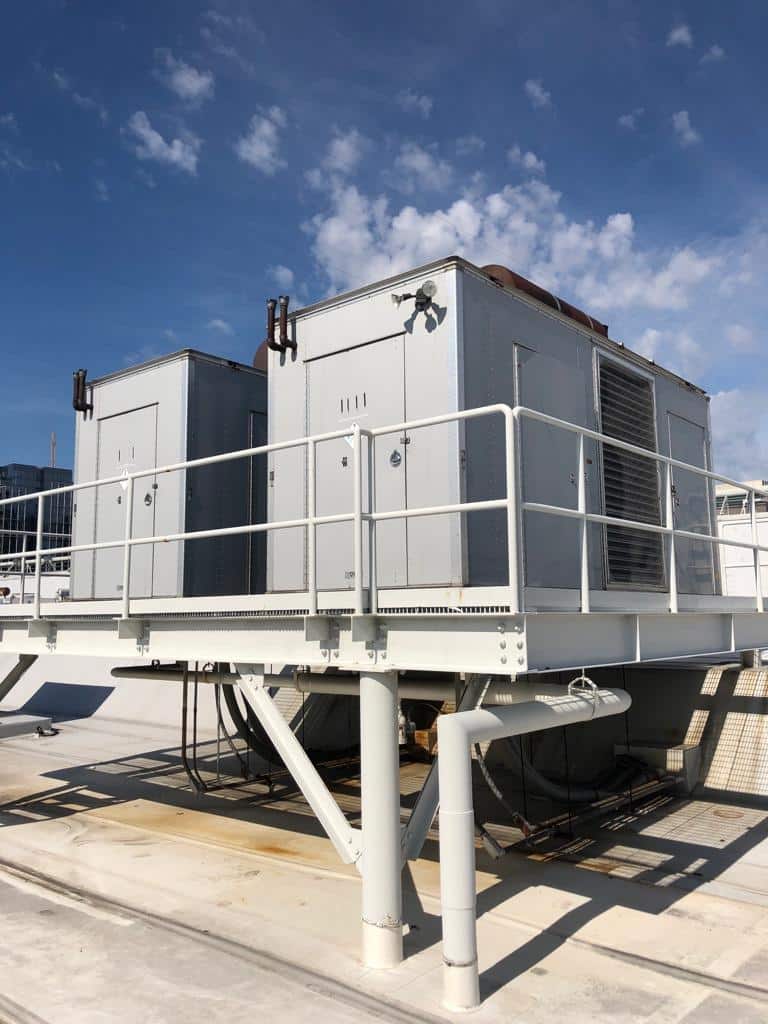 When it comes to hospitals, these healthcare facilities must be prepared to face the worst, even during a power outage. Power outages can result from any number of reasons such as natural disasters like earthquakes, hurricanes, and severe winter storms. They can also be the result of manmade disasters such as a vehicle knocking down a utility pole or simply due to the aging power grid. Whatever the cause, one thing is clear – hospitals need to remain operational and require a large amount of power to do so.
Standby generators (also synonymously known as backup generators) are a reliable backup power solution that can help keep hospitals up and running, even during a power outage and are also one of the most common backup power solutions used throughout the industry.
So what exactly would happen if a hospital were to lose power?
While there are many different scenarios, these are some of the biggest:
Day-to-day Operation
Hospitals and healthcare facilities tend to patients on a daily basis. This may include scheduled operations, lab tests, scans, x-rays, routine exams, or inpatient services that provide ongoing treatment for recovering patients. These services all use unique medical equipment that requires power to operate. Aside from tests and routine services, there may be patients that are undergoing treatment and must be put on dialysis machines or life support machines like ventilators for a period of time. Loss of power could render these devices inoperable and therefore jeopardize the patient's well-being. Hospitals also house refrigeration equipment that store intravenous (IV) systems, lifesaving medications, vaccines, and blood that must be stored within a temperature controlled environment.
Emergency inpatient and operating room (OR) services are also included, which may require some or all of the aforementioned equipment.
Backup generators in hospitals aren't strictly for keeping medical equipment and life-saving devices functional like oxygen pumps, ventilators, and powered surgical equipment, but they also keep heating & cooling systems working, security & detection systems running, keep the lights on, keep egress points like emergency exit lights visible, help maintain communications system both internally & externally, provide power to operating rooms, as well as keeps medical supplies such as bone, plasma, and tissue samples stabilized in refrigerated storage.
If a hospital is inadequately equipped with backup power, this may require patients to be relocated to neighboring facilities to ensure proper continued treatment.
Disaster Recovery
While it may be a given that hospitals rely on a wide variety of tools to treat patients on a day to day basis, events like a natural disaster can cause an influx of patients that require urgent medical care due to injuries or accidents. In these mission-critical situations, doctors and surgeons cannot afford to lose power to life-saving medical tools and equipment in order to effectively administer emergency operations. This also includes aftercare that helps monitor a patient's vitals and overall status post-operation, including life support devices if necessary.
Field Hospitals
For large scale disasters or events like the 2019 pandemic, field hospitals are often placed within disaster zones. Field hospitals act as a spillover hospital when traditional hospital facilities are experiencing high capacity. Field hospitals can accommodate additional patients for emergency life-saving procedures and enable additional healthcare experts to deploy to these sites to administer medical care to patients in need.
While there are many of the same medical devices used in traditional hospital facilities deployed out to these field hospitals, the greatest challenge is powering these medical devices and equipment. Field hospitals are technically like a pop-up encampment and do not have access to the main power grid. In these instances, there are portable form factors of standby generators that can be delivered directly on-site for a necessary period of time and can be easily removed from the site when completed.
Hospital Generator Requirements
All this being said, securing a backup generator for your facility is no simple task. It is not a matter of purchasing a generator and hooking it up. There are a number of considerations to take into account before moving forward with the process.
One of the most important requirements to keep in mind before installing a backup generator for a hospital is conforming to NFPA (National Fire Protection Association) Life Safety Code also known as NFPA 101.
This document lists the legal regulations and generator requirements for facilities that house patients that are on life-support systems, including:
Maintain and test circuitry
Maintain the batteries
Perform regular testing
Hire and train qualified personnel to repair and maintain generators
The document also specifies how maintenance ought to be done, and various other necessary qualifications.
Additionally, backup generators within hospitals fall into two standard categories dictated by the NFPA.
NFPA 99 – This code regards generators as part of the essential electrical system (EES). This applies to hospital backup generators (and other electrical components) connected to the existing electrical system. The EES are further broken down into three types. All hospitals with an EES must conform to Type 1 system requirements. You can find more information here.
NFPA 110 – This code treats generators as part of an emergency power supply system (EPSS). Two additional definitions will help here:
Emergency Power Supply (EPS): The source of electric power for an EPSS.
Emergency Power Supply System (EPSS): The entire electrical system, including conductors, protective devices, transfer switches, and more. The EPS powers the EPSS.
These distinctions are essential to the code. Last, there are two levels to the code. Level 1 systems are mandatory if loss of power could result in the loss of human life. Level 2 systems are mandatory when EPSS failure does not risk human life.
More information can be found here.
Testing & Maintenance
Regardless of which code your hospital backup generator falls under, routine maintenance is compulsory. Here's a few guidelines to maintenance:
Manuals: Two sets of detailed instruction manuals required on site.
Standards: All testing operations need to follow all official performance regulations and guidelines.
Tools: Correct tools for testing and maintenance must be available on site.
Personnel: Only qualified, trained staff can perform testing and maintenance.
Weekly Inspections
Monthly Testing
You should also keep the backup hospital generator in a part of the campus only accessible to authorized personnel. 
Emergency Power Standards
The most essential element to standards for hospital backup generators is response time. Patients on life support cannot afford a moment without the electricity necessary to power those machines. Currently, hospital standby power must activate within no greater than ten seconds. Furthermore, hospitals must store enough fuel on-site to keep generators running for a total of 96 hours, in case a power outage lasts for days.
If you follow the testing and maintenance guidelines listed above, there should be no cause for concern here. Routine inspections and testing ensures, not only that you meet standards, but also the safety of every employee and patient in the hospital.
Preparation is Key
No one can number the risks of losing power in a hospital. However, you can take various steps to ensure you and your hospital backup generator are prepared. Here are a few…
First, as mentioned above, meet all the necessary standards. Not only will you follow the law, prevent potential lawsuits, and maintain a safe working environment, but you could even save the lives of those in the hospital.
Second, performing weekly inspections assures that trained staff identify potential problems, necessary repairs, and the like BEFORE something catastrophic happens.
Third, conducting monthly tests is the other half of what weekly inspections can do. By regularly running tests, potential issues can be identified early.
Fourth adequate training for staff is critical.
Fifth, as mentioned earlier, the position of your hospital backup generator is important. Do not keep your generator on the rooftop or in a basement, but nevertheless ensure it is safe from various types of weather, especially flooding. Sound-attenuated enclosures are a great way to help weatherproof your generator and protect it against the elements. Also, guarantee only authorized personnel can access it to prevent others from tampering with the generator or causing damage to the generator equipment.
Last, when lives depend on a hospital backup generator, you need to have enough fuel to keep things running. Natural gas generators are heavily used, because they are connected to the natural gas pipeline. The downside to the use of natural gas generators is that in certain natural disasters, such as tornadoes or earthquakes, the gas company may shut off the gas fuel supply to prevent potential outbreaks of fires or explosions. Diesel generators are a popular choice for backup power solutions, but require a diesel base tank and regular refueling to maintain operation.
Additional resources can be found below:
In a mission-critical environments like hospitals, emergency rooms, or field hospitals, power outages can cripple all life-saving efforts and endanger not only patients, but employees as well. If you are considering installing a generator or upgrading your existing generator, but are finding it difficult to navigate through the process, please reach out to us at Woodstock Power Company.
Give us a call or send us an email: 610-658-3242 or sales@woodstockpower.com
Additionally, you can fill out our Contact Form with any questions or inquiries and our representatives will get right back to you.
THE WOODSTOCK POWER COMPANY EXPERIENCE
We have industry experts that focus on commercial generator sets, with in-depth industry knowledge to help you choose the right generator that fits your needs.
We are industry leaders in buying and selling used generators to fit the needs of many businesses, including commercial, industrial, medical, agricultural, and university. This includes facilities like hospitals, better living centers, nursing home, airports, hotels, resorts, restaurants, retail centers, manufacturing, production, and more.
Our experts are ready to assist you from answering any questions you may have about power generator sets to helping you find the best selection in our inventory based on:
Peak & Average Power Requirements
Fuel Preference (Natural Gas or Diesel)
Portability & Stationary Power
Prime & Standby Generator Requirements
Available Space & Exhaust Restrictions
We carry only the most top rated new, used, and surplus power generator sets for sale, providing you with a great value generator that will fit your budget.
Our generators have been thoroughly inspected, serviced, and verified, which ensures that you will be buying a quality generator that you can depend on. If a generator is not up to par with industry standards, we make all necessary repairs or modifications, and fully test every generator before we sell. This ensures a full turnkey generator that's ready to fire up and go!
Due to our wide selection of generator sets, we're confident that we can find the model that best suits your operational needs and budget.
We also buy used generators in good quality, if you have already upgraded and you're looking to sell your older model.
Feel free to contact us with any questions, concerns, or inquiries to learn more about the Woodstock Power Company experience and the quality level of products & services we provide.