Backup Generators for Business Disaster Planning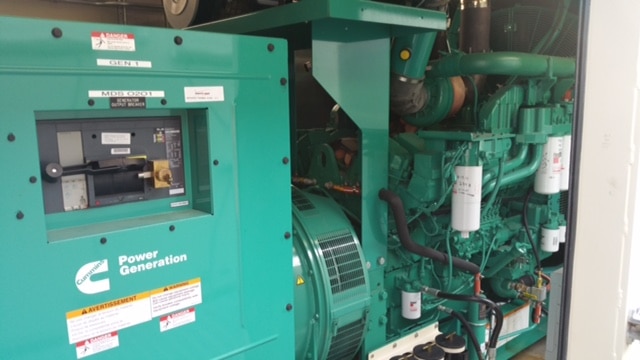 Power outages caused by both natural disasters and man-made disasters can cripple a business by bringing operations to a halt. Power outages can last for just minutes up to several days, leading to loss of operations, profits, products, such as perishable goods, critical metric data from computer systems, and create unsafe working environments within your facility.
Backup commercial generators can help mitigate profit loss and loss of productivity, as well as keep the lights on by preventing any operational interruptions for businesses and mission-critical facilities like hospitals, water treatment plants, telecom networks, emergency rooms, and data centers.
While there are many undisputed reasons to buy a generator for your business, there are many factors to consider before making your purchase:
Calculate Power Needs/Requirements
Start by identifying the key pieces that are required to continue conducting business at all times. This could be hardware, equipment, machines, computer systems, etc and calculate the amount of power they will require to run off generator power in the event of a power outage.
Resources to help understand & calculate power requirements can be found here:
Generator Selection
After you have calculated the output rating and amount of power you would need a generator to be able to provide, you next need to choose a generator that best fits your business. The driving force behind most generator selection processes are the generator fuel type.
Fuel type determines the type of fuel that your generator will run on. This is one of the single-most important factors to consider before making your commercial generator selection, each with their own barrier of entry. The two main commercial generators used in the market are diesel and natural gas generators, each with their own pros and cons.
Diesel generators are the most commonly preferred generators used for emergency backup power solutions, but the downside to these generators are the acquisition costs and limited fuel tank capacity. The maximum duration a diesel generator can run over a period of time is limited to the total capacity of the fuel tank. If choosing to go with a commercial diesel generator, you will need to pre-plan for contingency measures. If the power goes out, will you have staff appointed to ensure that diesel fuel is constantly replenished? You will also need to secure a steady supply of diesel fuel delivery to replenish the tank. This may pose a challenge in emergency situations, such as hurricanes or inclement weather, such as blizzards or severe Winter weather storms.
A key benefit to diesel generators is lower maintenance requirements when compared to their natural gas counterparts. Diesel generators also commonly come in portable units, since on-board fuel tanks can be mounted along with the generator onto a double-axle trailer mount or mobile chassis to help transport the generator from one location to another with relative ease in cases where temporary power is needed.
Natural gas generators generally have a lower cost of acquisition, but also come with their own pros and cons. Natural gas generators have higher maintenance needs in terms of maintenance intervals, as natural gas generators use a highly combustible fuel source. Periodic, regular inspections and service must be conducted in order to ensure there are no hazardous gas leaks or micro-tears in the fuel lines. Also, if you are in an area that is prone to natural disasters, such as earthquakes, wildfires, hurricanes, or tornadoes, the utility companies most commonly shut off gas lines to prevent explosions.
Benefits of a natural gas generator is that simply put, do not have restrictions or limitations to fuel supply in the way of a fuel tank, because they are connected directly to the natural gas pipeline in your area. If a natural gas pipeline is readily available around the installation location of the generator, getting connected should be fairly simple and straightforward, providing a steady supply of fuel without worry about a depleting fuel tank.
More in-depth comparisons for generator fuel types can be found here: Fuel Types: Diesel vs Natural Gas Guide
Generator Installation Planning

There are a number of items that need to be considered before installing a commercial generator. Be sure to be as thorough as possible before moving ahead with installation.
Placement
Before installing a commercial generator, you need to submit a permit package to your city's building department in order to install a commercial generator outside the building. This process can be simplified by consulting with an electrical engineer and structural engineer, who can help you adhere to all local zoning laws, regulations, and city ordinances.
If you install your generator inside of your building, then you will need to also consult a mechanical engineer. When installing a generator inside a building, there are key requirements that need to be considered before setting up a dedicated generator room.
Also be sure to check and make sure that the generator installation complies with all local and building codes.
More information on these requirements can be found here:
Foundation
If you are installing your generator outside your building, you will need to look into a proper foundation to mount your generator onto. The most common foundation used is concrete pads or concrete foundations. Concrete pads keep generators working properly and up to code. Concrete pads keep the generator lifted up and away from mud, dirt, and debris. A concrete pad is the best option for a stable and clean environment for your commercial generator system.
A concrete pad used as a foundation for your generator is created specifically for the shape, size, footprint, and weight of your generator.
More details regarding installing a concrete pad can be found here:
Run-time
Consider how long you need the generator to run in the event of a power outage. There is no one right answer to this question, as power needs vary for each business.
If using a diesel generator, first consider the capacity of the diesel base tank. Depending on size and operation load, diesel fuel consumption by the generator can vary.
Please refer to our fuel consumption chart for estimations on diesel fuel consumption:
Depending on the duration of a power outage, you may need to factor in the amount of time the diesel fuel supply can last and will need to work out measures for diesel fuel delivery. Be sure to plan accordingly for how much fuel is needed and the frequency of deliveries that may be required.
In addition to these factors, be sure to take into account where the fuel will be stored. Will the delivery be portable diesel fuel containment tanks? Or will the delivery be on a fuel tanker and willing to assist in the refuel services?
Natural gas generators will rely less on fuel supply deliveries, but will need to coordinate with utility companies to be alerted of any outages or shutdown of utilities. As long as there are no interruptions with the utility service, the generator will be able to run and function when required.
Autonomy
In your company's contingency plan, does it mention who will operate the generator? Will you have trained staff on-hand and on-site in case of emergencies? If not, it may be best to invest in a component called an Automatic Transfer Switch (ATS). An ATS will prompt the generator to kick in seconds within the event of power loss due to power outage. Once power is restored from the main power grid, the generator will be prompted to shut off, as service from the main grid will resume.
Without an ATS (Automatic Transfer Switch), you will need staff on-site to manually flip the switch on the generator controls to run the generator in the event of a power outage and must also manually turn off the generator once power is restored. Failure to turn off the generator after power to the main grid is restored can cause an effect called backfeeding, which can be lethal to any electricians that are working on the power lines.
Sound Attenuation
If the commercial generator happens to be installed outside the building facility, an enclosure is a must. Any/all generator installations should coincide with any local noise ordinances in your area. A generator enclosure can help reduce noise (known as sound-attenuation), as well as protect the generator from elemental exposure. This will help reduce wear and ensure that the generator can continue to run seamlessly. Failure to adhere to any noise ordinances and lack of sound-attenuation can lead to complaints, warnings, fines, and even mandated shutdown of your generator by local authorities.
More information on sound-attenuated enclosures can be found here:
An added note: if you are going to be enclosing the generator in a sound-attenuated enclosure, be sure to take this into account when planning your concrete pad foundation and placement of the generator, as it will add additional weight and space requirements.
Installation
The installation process of a commercial generator is a very involved task and involves careful precision and planning. Be sure to work with a reputable generator dealer who also specializes in the generator installations. Plan and coordinate details, requirements, and include any third parties that will be involved in the installation process.
Maintenance
Generators need to be regularly serviced and maintained to ensure that they will run when you need it most and prevent equipment failure during critical moments such as power loss due to power outage.
After establishing who will be handling generator maintenance, be sure to communicate with the maintenance specialist on a solid maintenance plan. Generators are often poorly maintained and an afterthought between power outages, so be sure to create an actionable service and maintenance plan to ensure that your generator is always ready.
More details about generator maintenance can be found here:
Conclusion
While there are many processes involved in regards to a commercial generator for disaster planning for businesses, this covers the major points to keep in mind. If you have any questions, looking for more details, or are interested in buying a generator and having it installed for your business or facility, please reach out to us at Woodstock Power Company!
Give us a call or send us an email: 610-658-3242 or sales@woodstockpower.com
Additionally, you can fill our our Contact Form with any questions or inquiries and our representatives will get right back to you.
THE WOODSTOCK POWER COMPANY EXPERIENCE
We have industry experts that focus on commercial generator sets, with in-depth industry knowledge to help you choose the right generator that fits your needs.
We are industry leaders in buying and selling used generators to fit the needs of many businesses, including commercial, industrial, medical, agricultural, and university. This includes facilities like hospitals, better living centers, nursing home, airports, hotels, resorts, restaurants, retail centers, manufacturing, production, and more.
Our experts are ready to assist you from answering any questions you may have about power generator sets to helping you find the best selection in our inventory based on:
Peak & Average Power Requirements
Fuel Preference (Natural Gas or Diesel)
Portability & Stationary Power
Prime & Standby Generator Requirements
Available Space & Exhaust Restrictions
We carry only the most top rated new, used, and surplus power generator sets for sale, providing you with a great value generator that will fit your budget.
Our generators have been thoroughly inspected, serviced, and verified, which ensures that you will be buying a quality generator that you can depend on. If a generator is not up to par with industry standards, we make all necessary repairs or modifications, and fully test every generator before we sell. This ensures a full turnkey generator that's ready to fire up and go!
Due to our wide selection of generator sets, we're confident that we can find the model that best suits your operational needs and budget.
We also buy used generators in good quality, if you have already upgraded and you're looking to sell your older model.
Feel free to contact us with any questions, concerns, or inquiries to learn more about the Woodstock Power Company experience and the quality level of products & services we provide.