Backup Generators for Data Centers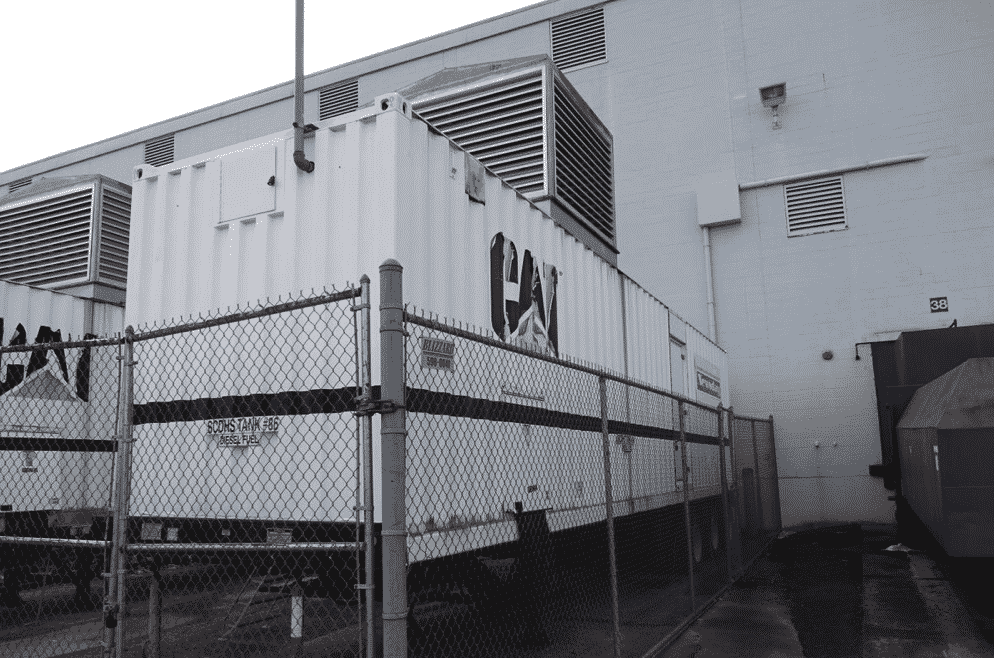 Backup generators for data centers provide power when the main source of power is interrupted. Power outages due to utility grid failures, rolling blackouts, inclement weather, natural or man-made disasters, or electrical failure can put data centers at high risk of operational loss. Data center systems and components are expected to work constantly and require reliable, uninterrupted power 24 hours a day, 7 days a week. If there is any lapse in power, files can be lost or can become corrupted, mainframes can malfunction, and that can result in lost profits.
Unfortunately, most data center components are susceptible to high power spikes due to switching from normal to emergency power supplies. This means that a total system restart is usually required, even if the components only lose power for a single moment. This leads to system downtime, potential startup issues, file corruption, and information being processed at the time could also be lost.
Component Breakdown
When referencing "components" of a data center, we're referencing the following:
Utility Power – Main power source for the facility
Emergency Generator – Power supply when utility power is not available
ATS (Automatic Transfer Switch) – Routes utility or emergency generator power to switchgear
Switchgear – Routes utility or emergency generator power
UPS (Uninterruptible Power Supply) – Consists of battery bank, charger, and inverter
Modes of Operation
All data centers operate in either one of two modes: normal mode & emergency mode.
Normal mode is where data centers operate from supplied utilities and emergency mode is where data centers operate from standby generators.
In normal mode, utility power is routed through the ATS (automatic transfer switch) and into the switchgear. The switchgear is configured for critical supplies (components the need uninterrupted power, such as data centers or UPS) and non-critical supplies (such as HVAC or workstations).
In emergency mode, utility power from the main grid is lost, interrupted, or disconnected. If your facility is adequately equipped, then the following chain of events will occur:
UPS supplies power to security & data center
Emergency generator starts and ATS switches over to emergency power
Switchgear routes power to critical & non-critical loads
UPS transfers to normal operation and data center & security are powered by an emergency generator
When normal power resumes, the automatic transfer switch routes power to utility and critical & non-critical loads are powered
This chain of events ensures that there is no interruption of power for data center or security to allow the data center to continue functioning normally.
Considerations for Data Centers

Data Center Tiers
When purchasing a backup generator data centers, there are many considerations to make before moving forward with your purchase. Start by determining your data center tier. Identify data center tiers help quickly identify standards in the business.
Referencing the Uptime Institute (the IT industry's most trusted and globally accepted standard for proper design, build, and operation of data centers), data center tiers are categorized by the following:
Tier 1: Data centers failing into this tier are very basic data centers. These centers don't include any type of redundancy and can have 28.8 hours of downtime per year. Data centers in this tier would typically be used only by rather small businesses.
Tier 2: These data centers are designed with limited redundancy, covering power and cooling needs. These centers may experience up to 22 hour of downtime per year.
Tier 3: These data centers are much more reliable than previous tiers, with only 1.6 hours of maximum downtime annually. Data centers falling under this tier are generally utilized by larger businesses that can't afford downtime for important functions.
Tier 4: This is the highest tier data center, which only sees minutes of downtime a year, totaling 26.3 minutes or less. The minimal amount of downtime is ensured with fully redundant systems, comprised of backup generators and other vital pieces of equipment that prevent outages. Tier 4 data centers can continue to operate handle mission-critical functions even when a main power source is lost.
Facility Assessment
In order to accurately estimate a required generator output size for your facility, be sure to calculate the number of storage racks, square area, and expected heat load that is being produced. This will help gauge the facility's power consumption needs. Also, be sure that you understand the raised-floor area.
Consider running generators in parallel and implement standard power distribution systems to help increase reliability.
Generator Selection
After you have assessed your facility and are sure of your power needs, be sure to select a generator that can meet the power needs and demands.
Power Output Rating
One of the most important factors to consider when selecting a generator is ensuring you are getting the right sized generator that can handle the power requirements needs in the event of a power outage. Properly sizing a generator can be the difference between ensuring all key pieces of equipment & machinery are able to stay up and running or having limited power and taking a hit to your business operations.
Generally, for large buildings, business operations, or industrial applications, you would need a bigger generator with a higher power output rating (in kW). It would be best to start off by calculating power requirements and sizing your building for a generator.
Fuel Type & Other Costs
The biggest factor that influences most purchase decisions is the type of fuel that the generator uses. The two most common commercial generators used are diesel and natural gas generators.
Key factors when considering a commercial generator of either type is as follows:
Initial Cost
The upfront cost of purchasing and installing a commercial generator
Fuel Costs
How much fuel the generator consumes/how much fuel is required to run for X number of days.
Repair & Maintenance Costs
While both diesel and natural gas generators should be maintained regularly, diesel generators are more attractive for businesses, because they require very little maintenance when compared to their natural counterparts.
Who will maintain the generator and associated equipment? Generators need to be regularly serviced and maintained to ensure that they will run when you need it most and prevent equipment failure during critical moments such as power loss due to power outage. Work out a regular maintenance schedule and establish a service contract.
After establishing who will be handling generator maintenance, be sure to communicate with the maintenance specialist on a solid maintenance plan. Generators are often poorly maintained and an afterthought between power outages, so be sure to create an actionable service and maintenance plan to ensure that your generator is always ready.
Fuel Storage
Natural gas generators do not need to store fuel, because they are usually connected to the main gas pipeline. As long as there are no interruptions with your utility service, the generator will be able to run and function whenever it is required.
Diesel generators require a tank that is usually attached to the base of unit, known as a diesel base tank. If the generator has a smaller tank, then the generator will have to be refueled more frequently to ensure continued power. This may result in the need to store additional diesel fuel reserves on-premises or secure a steady delivery of diesel fuel, including during the event of an emergency.
Fuel Safety
Diesel fuel is among the least flammable of all fossil fuels. Due to its liquid state and natural odor, it's unlikely a diesel leak would go unnoticed. If that occurs, it's relatively safe to handle and clean up.
Natural gas is highly combustible and can explode if in a concentrated amount and exposed to an ignition source or even a spark. Natural gas is also extremely toxic to inhale in significant quantities.
Generator Controls
Generator controls should be considered when picking and acquiring a backup generator. Generator controls help to control what systems and equipment receive priority when being powered by the backup generator. Generator controls can also be set to ensure that only key components are receiving power in the event of a power outage to ensure that essential operations can continue.
Noise
Diesel generators produce a lot of noise at high decibel levels that can be dangerous to the human ear, whereas natural gas generators run more quietly.
Both generator types can benefit from a sound-attenuated enclosure to reduce noise.
Autonomy
Will there be someone available on-site, especially during the event of an emergency? If not, it may be best to invest in an Automatic Transfer Switch (ATS), which will prompt the generator to kick in seconds within the event of power loss due to power outage. Once power is restored from the main power grid, the generator will be prompted to shut off
Without an ATS (Automatic Transfer Switch), staff will need to be on-site to manually flip the switch on the generator controls to run the generator in the event of a power outage and must also manually turn off the generator once power is restored.
Size
Installing a commercial generator is a project on its own, since commercial generators vary in size, it is important to determine if your facility can adequately accommodate a generator on-site. This not only applies to reserving space for a generator room within the facility, but also on-site generator installations located outside of your facility. Generators used for data centers are generally large in size and adequate spacing is required. This will also usually require specific permissions from ordinances, such as zoning laws or building codes.
Installation
Who will install the generator? The installation process of a commercial generator is very involved, requiring the assistance of a master electrical engineer, as well as other industry specialists that are experienced in logistics, transportation, and unloading of the generator.
Resources for the installation of a commercial generator can be found here:
Conclusion
While there are many considerations to be made when installing a backup generator for your data center, keep these important factors to keep in mind when starting the process. If you have any questions, are looking for a commercial generator for your data center, please reach out to us at Woodstock Power Company!
Give us a call or send us an email: 610-658-3242 or sales@woodstockpower.com
Additionally, you can fill out our Contact Form with any questions or inquiries and our representatives will get right back to you.
THE WOODSTOCK POWER COMPANY EXPERIENCE
We have industry experts that focus on commercial generator sets, with in-depth industry knowledge to help you choose the right generator that fits your needs. We are experts in providing generators for data center backup power needs, as well as data center decommissioning services.
We are industry leaders in buying and selling used generators to fit the needs of many businesses, including commercial, industrial, medical, agricultural, and university. This includes facilities like hospitals, better living centers, nursing homes, airports, hotels, resorts, restaurants, retail centers, manufacturing, production, and more.
Our experts are ready to assist you in answering any questions you may have about power generator sets to help you find the best selection in our inventory based on:
Peak & Average Power Requirements
Fuel Preference (Natural Gas or Diesel)
Portability & Stationary Power
Prime & Standby Generator Requirements
Available Space & Exhaust Restrictions
We carry only the most top-rated new, used, and surplus power generator sets for sale, providing you with a great value generator that will fit your budget.
Our generators have been thoroughly inspected, serviced, and verified, which ensures that you will be buying a quality generator that you can depend on. If a generator is not up to par with industry standards, we make all necessary repairs or modifications and fully test every generator before we sell. This ensures a full turnkey generator that's ready to fire up and go!
Due to our wide selection of generator sets, we're confident that we can find the model that best suits your operational needs and budget.
We also buy used generators in good quality, if you have already upgraded and you're looking to sell your older model.
Feel free to contact us with any questions, concerns, or inquiries to learn more about the Woodstock Power Company experience and the quality level of products & services we provide.
Follow us on LinkedIn, YouTube, Facebook, and Twitter for more info about commercial generators!