What is CARB and What Is A CARB-Compliant Generator?
What Is CARB and What Is a CARB-Compliant Generator?
Commercial generators are the backbone of your company. They help you keep operations going during power outages and other disasters that disrupt your main power grid. Having a generator that complies with your local regulations will help you maintain company efficiency while protecting the environment and the people around you.
If your business operates in California, you'll need to comply with some state-specific rules. Most importantly, you must follow regulations set by the California Air Resources Board (CARB) which provides rules for manufacturing and using certain equipment in the state.
What Is CARB?
The California Air Resources Board is the "clean air agency," a government agency in the state of California. The board was created in 1967 when California's elected leaders met to address air pollution. California's geography, weather, and the growing population had created excessive amounts of pollution, mainly from the state's growing number of cars.
For the safety of California residents, CARB took statewide action, setting emissions regulations that were stricter than the federal regulations. Using scientific foundations, CARB became a leader in U.S. air pollution controls, which it continues to implement to this day.
The primary goals of California CARB requirements are to attain and maintain healthy air quality, which includes protecting the general public from exposure to toxins and contaminants in the air. CARB is known worldwide for providing innovative solutions for air pollution.
CARB sets standards through a series of programs and regulations that it updates from year to year. It also funds several research projects to discover new ways of limiting emissions as California's population and vehicle usage increase.
Air Districts
California is divided into 35 local Air Districts, each responsible for planning and monitoring regional air quality. The districts help create cleaner air by focusing on California CARB compliance in individual counties. They also provide air quality improvement grant programs to further help Californians enjoy clean air.
Some districts have rules to further regulate and decrease pollution, like requiring permits for commercial generator use. Before using or purchasing a generator, check with your air district to ensure compliance.
What Is the Difference Between CARB-Compliant and CARB-Noncompliant?
CARB compliance means your equipment meets the current emission standards set by CARB. CARB-compliant equipment produces fewer harmful emissions, toxins and particulates, resulting in cleaner and safer air quality.
CARB works to limit the use of:
Carbon monoxide.
Carbon dioxide (CO2).
Nitric oxides (NOx).
Sulfur oxides (SOx).
Hydrocarbons.
Particulate matter.
CARB-compliant equipment and vehicles will say so on their labels, making them easy to identify. Equipment must be CARB-compliant to be legally sold in California. When buying equipment, you can discuss your CARB options with a trusted dealer.
Can I Use a CARB-Noncompliant Generator in California?
Equipment that isn't CARB-compliant is not permitted for manufacture, sale or use in California, except in certain conditions for certain types of equipment.
Cars, trucks and other vehicles are never allowed to evade CARB regulations. Noncompliant road vehicles may be flagged with a CARB Noncompliant Vehicle Warning requiring the California Department of Motor Vehicles to deny the vehicle's registration.
CARB may loosen its strict generator standards during some specified emergencies if you follow certain regulations. Be aware of what CARB considers an emergency, and only use noncompliant equipment under authorized conditions.
If you do experience an unforeseen event beyond your control, such as a natural disaster, immediate generator use may be necessary to maintain public safety. In these cases, you may be able to operate your noncompliant generator while following these rules:
General compliance: The generator must meet other federal emission control standards.
Demonstration: You must be able to demonstrate the immediate need for a generator.
Notification: You must notify CARB of your plans to operate a noncompliant generator within 24 hours of beginning your operations.
Time limitation: You may only operate the generator until the end of the emergency event or 12 months, whichever comes first.
What Does CARB Affect?
CARB rules and regulations mainly affect heavy equipment and automobiles with internal combustion engines, such as commercial and residential generators, cars, trucks, tractors, lawnmowers and chainsaws. More recently, CARB regulations is now also being enforced on an increasing number of portable handheld equipment that use engines such as blowers, weed whackers, trimmers, and other gas powered tools used in landscaping with approved battery powered equipment being the recommended alternative.
Internal combustion engines use fuels such as diesel, natural gas and propane. These fuels produce emissions, particulates and harmful gases that need to be regulated for the health of the population and environment. Any combustible fuel engine manufactured or sold in California must be CARB-certified.
CARB is solely enforced and regulated in the state of California, though many other states are rapidly beginning to adopt CARB measures. Many states are specifically targeting automobile emissions through California's Low-Emission Vehicle criteria, greenhouse gas emissions regulations and Zero-Emission Vehicle regulations.
Fuel Quality
CARB also controls the quality of fuel sold in the state of California through its Fuel Enforcement Program. In California, vehicle emissions are responsible for approximately 50% of greenhouse gas emissions, 80% of nitrogen oxide pollution and 90% of particulate matter pollution. The Fuel Enforcement Program sets standards and adopts regulations to achieve the maximum degree of emissions reduction possible from vehicular and other mobile sources.
This CARB program even regulates motor vehicle fuel composition through its California reformulated gasoline regulations (CaRFG), diesel fuel regulations and cargo tank vapor recovery regulations.
Additionally, CARB certifications are required for all equipment and heavy machinery converted or retrofit with an alternative fuel system. Even if the equipment was originally CARB-certified, CARB must certify and approve the new converted or retrofitted system.
Small Off-Road Engines
Small off-road engines (SORE) are engines powered by spark ignition, usually used in outdoor power equipment and specialty vehicles. SORE equipment has rated power at or below 19 kilowatts. CARB regulates SORE equipment to ensure even the smallest engines are contributing to healthier air quality.
Engines that use diesel fuel and engines used in stationary equipment like commercial generators are not subject to SORE regulations. However, these engines have their own rules to follow.
Public Safety Power Shutoffs
Utility infrastructure is a leading cause of forest fires. An increasing number of California utilities are participating in Public Safety Power Shutoffs (PSPS events), planned power outages that help prevent wildfires during major weather events. CARB has permitted companies to use backup generators during these shutoffs while reminding California workers to be mindful of the emissions their equipment can generate.
CARB provides several resources to clarify generator limitations, help people choose equipment and calculate potential emissions impacts related to PSPS events. These PSPS event regulations help everyone stay safe from emissions even during times of increased generator use.
You may use noncompliant stationary generators during PSPS events as long as you follow the guidelines for using non-CARB-compliant equipment in emergencies.
What Is the Difference Between CARB and the EPA?
The Environmental Protection Agency (EPA) was created in 1970 to help protect the environment. EPA compliance is a federal certification that applies to all internal combustion engines manufactured and sold within the United States. While EPA and CARB compliances are similar, CARB is a California agency that enforces the state's own separate rules and regulations.
While all internal combustion engines made in the U.S. must comply with EPA certifications, they may not all comply with CARB. Any piece of equipment or heavy machinery with an internal combustion engine that will be manufactured or sold in the state of California must meet both EPA and CARB requirements.
CARB vs. EPA Tiers I, II, III and IV
The EPA monitors generator emissions standards based on Tier regulations, which sometimes differ from CARB regulations. Both regulatory systems aim to reduce fuel emissions, though they have different standards for how to do so. The EPA Tiers apply to equipment with non-road diesel engines, including diesel generators. While EPA Tiers mainly apply to diesel engines that include diesel generators, there are also natural gas generators that are manufactured that meet EPA certifications and are known as an EPA Certified natural gas generator set.
The EPA Tiers indicate changes over time to make engines more environmentally friendly. Generator emissions should match the strictest EPA Tier requirements in effect for their year of manufacture.
Federal generator emissions regulations evolved in this order:
Tier 1: In 1994, the EPA adopted the first federal emissions standards for nonroad diesel engines rated at or above 37 kilowatts.
Tier 2: In 2001, the EPA adopted Tier 2 as part one of their mission to reduce nonroad diesel engine emissions by up to two-thirds through more stringent standards than Tier 1.
Tier 3: In 2006, Tier 2 was phased out by the adoption of Tier 3, the second part of the nonroad diesel engines emissions decrease.
Tier 4: In 2008, the EPA began Tier 4 emissions regulations for diesel engines of all kilowatt ratings, creating stricter standards for engine testing and operation.
Transition Program for Equipment Manufacturers
With the rollout of EPA Tier 4, some equipment manufacturers were concerned about making design changes in time to accommodate the new final regulations. In response, the EPA created a Transition Program for Equipment Manufacturers (TPEM).
TPEM offered increased flexibility for generator designers and manufacturers by allowing them to delay installing Tier 4-compliant engines for up to seven years. This additional time gave diesel equipment manufacturers the chance to make the necessary adjustments to eventually comply with Tier 4 without rushing to create all-new designs and products right away.
Many small businesses took advantage of TPEM to help ease the transition to Tier 4 from previous Tiers. The EPA also provided additional hardship relief allowances to help companies that were struggling with extenuating circumstances that further impacted their ability to comply with Tier 4 on time.
CARB Evolution
Similar to the EPA's Tiers, CARB has rolled out different regulations over time. Continuing legislation has mandated different strategies for cleaner air, promoting and requiring increasingly strict manufacturing standards.
How Does CARB Affect Generators?
Current power generation equipment, especially in the commercial generator and industrial generator class, can't completely eliminate its emissions and particulates. CARB's goal is to enforce fuel limitations to reduce generator emissions. CARB-compliant generators release fewer harmful emissions, toxins and particulates into the atmosphere, resulting in cleaner and safer air quality.
If you, your business operations, industrial applications or facilities are located outside of California, your state may still require you to follow some CARB requirements. Look into the rules for your specific area to familiarize yourself with local regulations. Wherever you are, follow the EPA Tier emissions laws, which apply to all states.
How Does a Generator Obtain a CARB Certificate of Compliance?
Some California air districts require commercial generator manufacturers to obtain CARB-compliance permits before building or selling generators. While manufacturers can sometimes receive exemptions from these permit requirements, they still need to certify their technologies before selling them in California.
The Distributed Generation (DG) Certificate Regulation creates requirements for companies that generate energy to supplement power from the grid. Manufacturers must fill out the certification application, which details qualified generator manufacturing and operation requirements.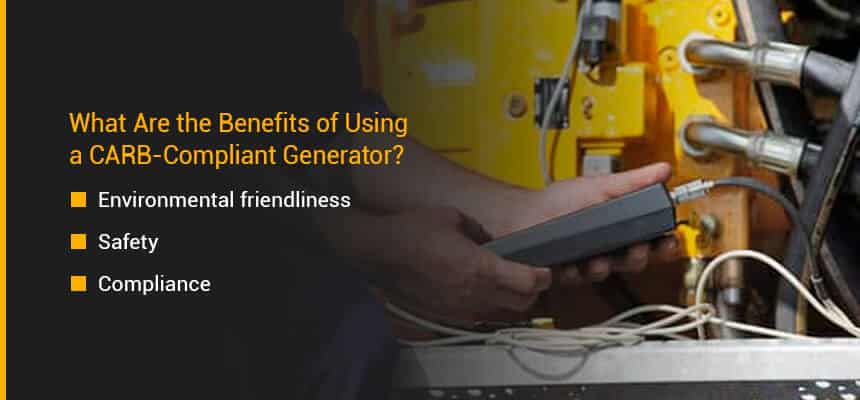 What Are the Benefits of Using a CARB-Compliant Generator?
Even if your company operates outside of California, using generators that follow the most recent CARB regulations is beneficial for your business and the environment. Some of the biggest benefits of CARB-compliant generators include:
Environmental friendliness: Since its inception, CARB's main goal has been to decrease the environmental impact of engine emissions. Choosing a CARB-compliant generator helps preserve the planet.
Safety: CARB-compliant generators also produce fewer emissions that are harmful to humans. You can feel comfortable operating your generator, knowing the strict regulations allow it to produce the least amount of harmful emissions possible.
Compliance: As CARB has the strictest emissions regulations in the country, you can feel confident your CARB-compliant generator meets every qualification necessary, wherever your business operates.
Talk to a Woodstock Power Company Expert
Here at Woodstock Power Company, our industry experts know their way around commercial generator sets. We offer in-depth expertise you can rely on to help you choose the best generator for your needs and budget.
We're industry leaders in buying and selling used generators for numerous industries with commercial, industrial and medical applications. Our generators are used in facilities like hospitals, better living centers, nursing homes, airports, hotels, restaurants, retail centers, manufacturing centers and production centers.
We sell only the highest quality new, used and surplus power generator sets. Every generator we sell is thoroughly inspected and serviced, so you'll be buying one you can rely on for years to come. We conduct every necessary repair, modification and test to ensure the used generators we receive comply with industry standards before we sell.
We also buy used generators in good condition, so if you've already upgraded and are looking to sell your older model, talk to us about the selling process!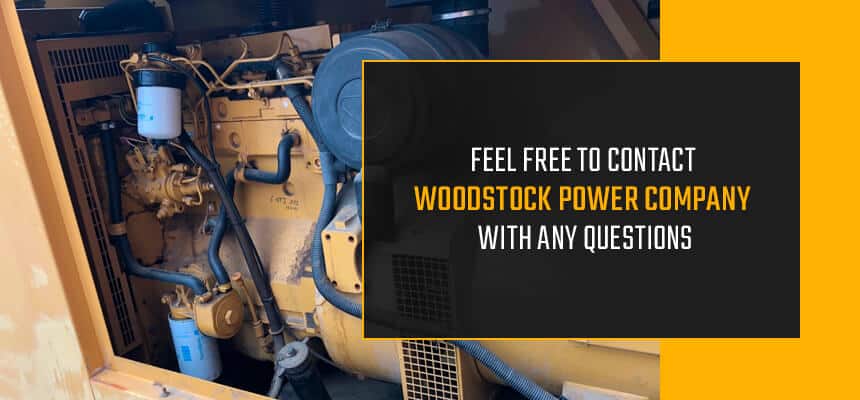 Contact Us Today
If you're looking for a new, used, replacement, rental or CARB-compliant commercial generator for your business operations, industrial applications, facilities, commercial property or industrial facility, please reach out to us at 610-658-3242 or sales@woodstockpower.com.
Feel free to contact us with any questions, concerns or inquiries to learn more about the Woodstock Power Company experience and the quality products and services we provide.
Follow us on LinkedIn, YouTube, Facebook and Twitter for more information about commercial generators!