Portable Generator Light Towers Light Up Work Sites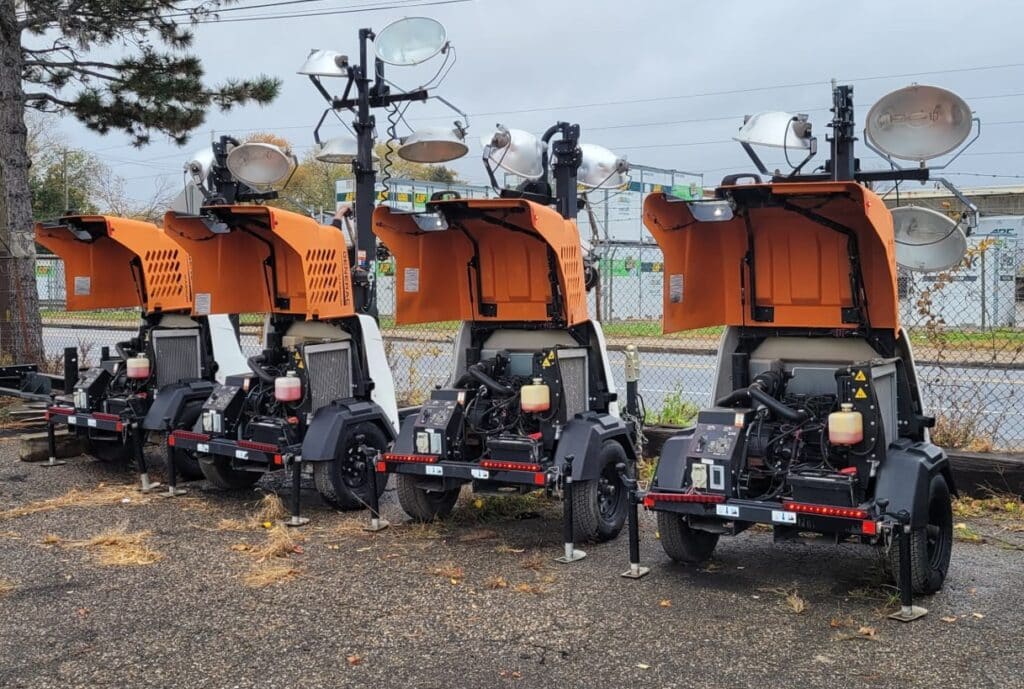 When thinking about portable generators and rental generators available out in the market, people often think of the boxy trailer mounted units that can be transported from location to location to backup power to facilities in the event of power outages or to power shelters and equipment during disaster preparedness and disaster recovery efforts. They're also often seen providing backup utility power during events like emergencies to run equipment that may be required such as sump pumps for local municipalities or power tools for disaster recovery sites, as well as a host of other equipment such as appliances.
While these are often the most commonly employed portable generator solutions used out in the field, there are also a different type of portable generator available to use for supplemental applications and these are portable generator light towers.
Portable generator light towers (synonymously just known as "light towers") are generally mobile, light, industrial equipment that are equipped with high-intensity lamps and are usually mounted to a mast (a long pole) that can be raised when needed and lowered for easy storage and transportation. Most light towers are also mounted to a trailer with a generator that can power the lamps in remote locations where main utility power from the grid is not available.
When it comes to portable generator light towers, they're generally powered by a generator with a diesel engine, though there are variations to these such as light towers that run off battery, are solar powered, hydrogen powered, or even plugin.
Why Use a Generator Light Tower?
Portable generator light towers are mainly used to provide a light source in an area where conventional lighting is unavailable. These light towers have a small footprint, are easy to transport, and easy to store, so they can be moved from location to location as needed per project or application. Since these units are built for the main purpose of providing light, they often leveraged on projects that are located off grid away from the main electrical utility or in instances such as disaster recovery when power from the electrical grid is unavailable. Versatility is a key point for portable generator light towers, as they are usually not limited to solely providing light, but can also provide enough power to run small pieces of equipment that may require a power source. You may often see these types of mobile units used on the highway when a road is undergoing construction. Not only do these light towers provide ample light, but can help power up equipment they may need for a specific task. Light towers are also heavily relied on for highway construction projects that take place over night, as highway street lights may not provide a sufficient enough light source.
Applications for a portable generator light tower aren't restricted to highway construction, as they can be used in projects such as new construction where power from the electrical utility is not available. They can also be used in applications such as mining, video media production, demolition projects, sporting events, and emergency services.
If you're looking to rent a portable generator light tower, we have them in-stock here at Woodstock Power Company!
We have multiple portable generator light towers in stock in both 6 kW and 8 kW ranges and can delivery nationwide across the US with both short-term and long-term rental contracts available.
610-658-3242
Or fill out our Contact Form and our project managers will get back to you shortly!
THE WOODSTOCK POWER COMPANY EXPERIENCE
We have industry experts that focus on commercial generator sets, with in-depth industry knowledge to help you choose the right generator that fits your needs.
We are industry leaders in buying and selling used generators to fit the needs of many businesses, including commercial, industrial, medical, agricultural, and university. This includes facilities like hospitals, better living centers, nursing home, airports, hotels, resorts, restaurants, retail centers, manufacturing, production, and more.
Our experts are ready to assist you from answering any questions you may have about power generator sets to helping you find the best selection in our inventory based on:
Peak & Average Power Requirements
Fuel Preference (Natural Gas or Diesel)
Portability & Stationary Power
Prime & Standby Generator Requirements
Available Space & Exhaust Restrictions
We carry only the most top rated new, used, and surplus power generator sets for sale, providing you with a great value generator that will fit your budget.
Our generators have been thoroughly inspected, serviced, and verified, which ensures that you will be buying a quality generator that you can depend on. If a generator is not up to par with industry standards, we make all necessary repairs or modifications, and fully test every generator before we sell. This ensures a full turnkey generator that's ready to fire up and go!
Due to our wide selection of generator sets, we're confident that we can find the model that best suits your operational needs and budget.
We also buy used generators in good quality, if you have already upgraded and you're looking to sell your older model.
Feel free to contact us with any questions, concerns, or inquiries to learn more about the Woodstock Power Company experience and the quality level of products & services we provide.