Backup Generators for Prisons & Correctional Facilities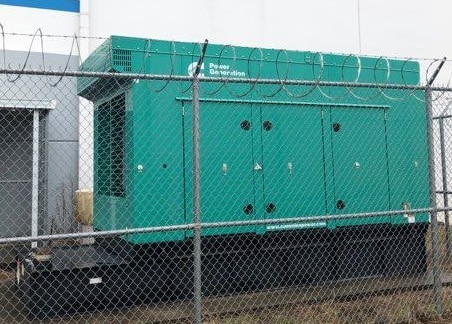 Generators are used in a wide range of commercial and industrial applications that span across many different professional fields, but an often overlooked area are correctional facilities and prisons. Power loss due to power outages in correctional facilities and prisons can lead to potentially hazardous situations for both inmates and law enforcement alike. A commercial grade backup generator can help safeguard these detention facilities and keep operations running smoothly in the event of a power outage.
Starting with the obvious, a power outage in a prison or correctional facility could lead to electronic monitoring devices, security systems, and surveillance systems to cease operations. With most of the equipment used to monitor & survey inmates being electronically controlled, this could lead to potential escape attempts or hiding situations for inmates.
While some prisons and correctional facilities still used locks that require keys, there are other facilities that have upgraded to an electronic system which can be controlled and operated remotely. Power loss due to power outage could have either outcome. Inmates could be locked in the cell indefinitely until power is restored or the cells could automatically unlock and allow inmates out.
While security is one aspect, heating, cooling, ventilation, and the well-being of inmates are also key. Prisons are often notoriously known for being a harsh environment to live in. Adding lack of heating or cooling due to power outages and living standards could become nearly unbearable, leading to potentially harmful outcomes such as dehydration, hypothermia, or hyperthermia. Not only would the prison or correctional facility be held accountable for infractions in terms of humanitarian rights, it could spell disaster and cause chaos to ensue from the inmates themselves.
Lack of ventilation can also create unsafe conditions for inmates and staff as well. When the power goes out, ventilation systems will cease operations, which equates to decreasing oxygen levels due to lack of air flow within the facility. Not only can this create stressful, nearly unbearable living conditions for inmates, but can lead to heat stroke or heat related medical maladies.
Most importantly, if there are inmates who are receiving regular medical care at a prison or correctional facility, vital life saving equipment and systems like defibrillators and oxygen systems can cease to operate, endangering their lives.
Leading By Example
A new prison facility is opening up in Pennsylvania that has completely secure facilities and upgrades added to the facility that not only ensures the safety and comfort of the inmates, but also the staff as well. While most of their cells and doors will be operated electronically, they have installed a backup generator to help keep chaos from erupting in the event of a power outage. The generator will also be used to maintain safe ambient temperatures and ventilation, as well as life-saving medical equipment to ensure that all their inmates are well cared for.
If you haven't taken measures to help safeguard your prison or correctional facility, now might be a good time to start. Not only will the safety, security, and health of inmates and staff be ensured, but you can also count on peace of mind that operations can continue running smoothly.
If you are looking for a new, used, replacement or rental generator for your prison or correctional facility or looking for more information, please reach out to us at Woodstock Power Company.
Give us a call or send us an email: 610-658-3242 or sales@woodstockpower.com
Additionally, you can fill our our Contact Form with any questions or inquiries and our representatives will get right back to you.
The Woodstock Power Company Experience
We have industry experts that focus on commercial backup power generator sets, with in-depth industry knowledge to help you choose the right generator that fits your needs. We supply generators to commercial real estate properties, industrial real estate properties, data centers, hospitals, commercial business facilities, and more!
Our experts are ready to assist you from answering any questions you may have about power generator sets to helping you find the best selection in our inventory based on:
Peak & Average Power Requirements
Fuel Preference (Natural Gas or Diesel)
Portability & Stationary Power
Prime & Standby Generator Requirements
Available Space & Exhaust Restrictions
Our experts are also able to help coach you on prime, continuous, and standby power generators, as well as finding the best surplus, new, or used generator that best fits your required application.
We carry only the most top rated new, used, and surplus power generator sets for sale, providing you with a great value generator that will fit your budget.
Our generators have been thoroughly inspected, serviced, and verified, which ensures that you will be buying a quality generator that you can depend on. If a generator is not up to par with industry standards, we make all necessary repairs or modifications, and fully test every generator before we sell. This ensures a full turnkey generator that's ready to fire up and go!
Due to our wide selection of generator sets, we're confident that we can find the model that best suits your operational needs.
We also buy used generators in good quality, if you have already upgraded and you're looking to sell your older model.
Feel free to contact us with any questions, concerns, or inquiries to learn more about the Woodstock Power Company experience and the quality level of products & services we provide.