Common Diesel Generator Uses & Applications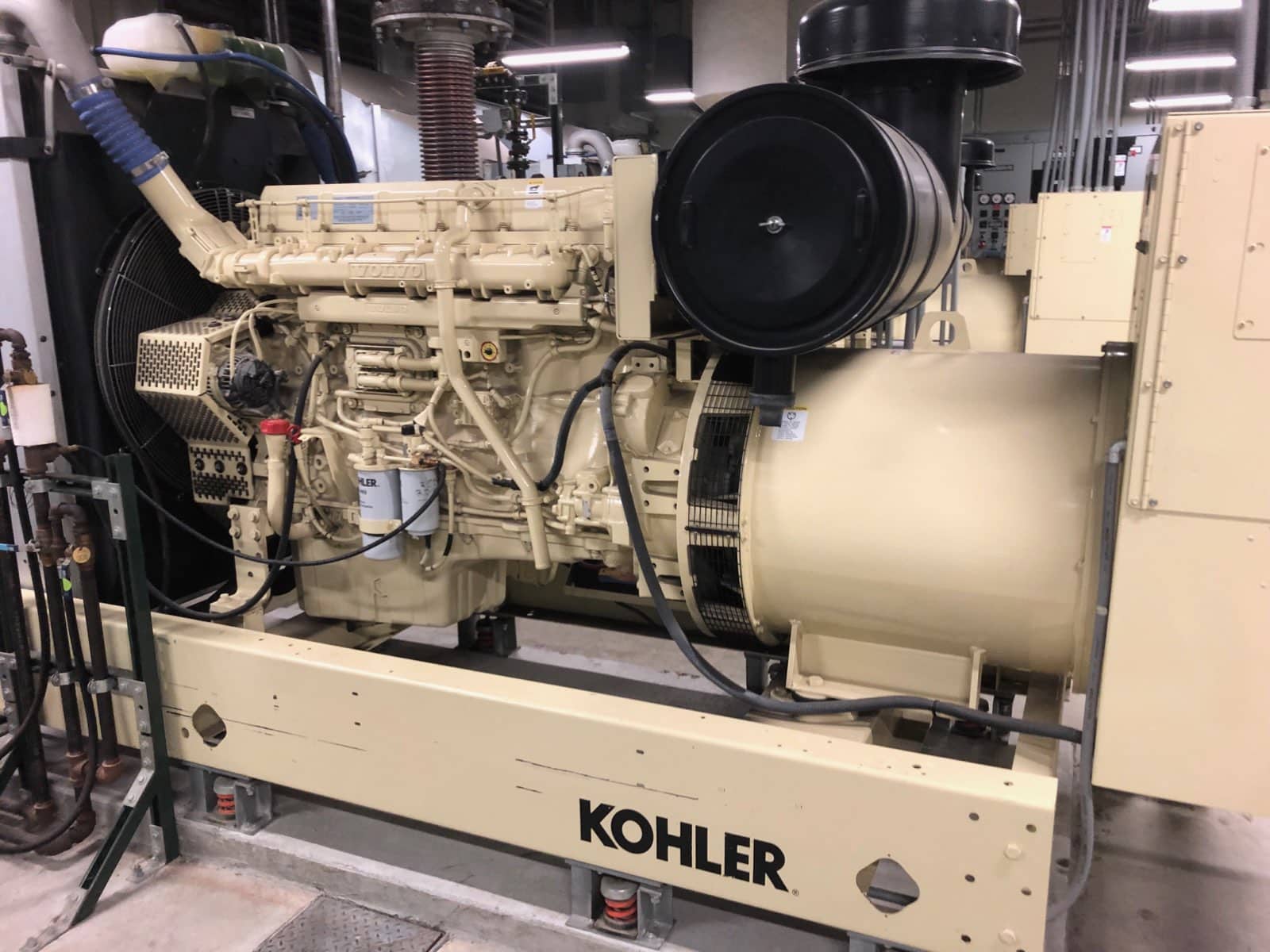 Commercial diesel generators have been a staple within many industries. Whether used for backup emergency power, projects off the grid or even for backup use on marine vessels, such as large ships and freighters, diesel generators have been a popular choice for decades.
Diesel generators are known for their durability, as well as versatility to handle projects of all types and sizes. The reason lies not only in the construction of the generator itself, but the fuel type that helps power the generator to run in all sorts of situations.
While diesel fuel is a great fuel source, due to the stability of the fuel, the energy density to volume ratio, and consumption rates, the downsides could include maximum fuel storage capacity and the truth that diesel fuel is still flammable. For these reasons, diesel fuel should be stored away properly and sufficient diesel fuel supply should be calculated to last a specific amount of time. In order to combat limited diesel fuel storage capacities, day tanks may be a viable solution depending on location.
Advantages of Diesel Generators
Diesel generators are designed to be rugged and durable, as well as efficient. Advantages can include:
Sturdier build construction with stronger metals, larger engines & cooling components
Lower maintenance costs due to lack of spark plugs for spark-ignition
Lower noise output and less overall maintenance when compared to natural gas generators
Longer overall lifespan & longevity
Efficient fuel consumption
Longer service & maintenance intervals when compared to natural gas generators
Uses & Applications
Commercial diesel generators are usually synonymous with standby power aka backup emergency power, but diesel generators are so versatile, they can be used across the board through multiple, various industries. Though not a comprehensive list, we'll cover some of the largest & most common industries that leverage the use of commercial diesel generators.
Power Plants
When power from the main grid is lost, diesel generators are usually found on-site at power plants to power essential functions, such as pumps, fans, hydraulic units, battery chargers, and other critical functions. Depending on the type of power plant, such as hydroelectric plants, diesel generators can also be used to power up and control spillway gates to prevent flooding when power from the main grid is lost. Most importantly, diesel generators help power plants that may need to conduct a process called a blackstart, which is a procedure that restores power to consumers after a total grid blackout.
Commercial Operations
Commercial backup generators not only keep the lights on, but can also keep the AC/heater going in order to maintain safe ambient temperatures within your facility for you and your employees. If you have vital systems, like computing systems or security systems or other key equipment, commercial generators can also help keep these running.
Depending on the size of the commercial generator, it may not simply mean keeping the lights and key computer systems on, but can also keep your regular daily operations up and running to help mitigate profit loss and loss of productivity.
Commercial Real-Estate/Industrial Real-Estate/Property Management
An important aspect of property management is ensuring that your customers & tenants always have the power they need, even in the event of a power outage. Regardless of if the property is commercial, residential, educational, medical, or industrial, backup generators can play a vital role in ensuring safety of customers & tenants.
For example, in the event of a power outage, a backup generator can keep any escalators, elevators, warning systems, sump pumps, and heating/cooling systems continuously running. If any tenants rely on life-saving medical devices or transportation devices, a backup generator can provide power needed.
Medical Industry
Considered one of the biggest mission-critical environments in the world, diesel generators provide backup power in the event of power outages. Hospitals, operating rooms, and emergency room in-patient centers rely on a wide variety of life-saving medical tools and equipment. Diesel generators help these medical facilities maintain important equipment like ICU patients and those on oxygen pumps.
Construction Projects
Diesel generators are a key piece of equipment when construction companies are working on a new project. Diesel generators come in portable form factors, which allow construction companies to work on projects that are located off the main power grid and have not set up the electrical infrastructure for their work site. Commercial diesel generators help prevent delays or stalling of projects, because they can provide continuous power and help keep projections on track for completion. Diesel generators power not only light sources, but also equipment that could be vital for completing specific tasks and construction operations.
Mining Operations
Over 70% of all power needs are met by diesel generators within the mining industry. The mining industry relies on heavy equipment such as lights, drillers, conveyor belts, excavating machines, and cranes. Regardless of what is being mined, portable diesel generators are ideal to meet the needs in various mining conditions.
Oil & Gas Operations
Majority of oil & gas operations take place in remote locations that are located off the main power grid. These conditions are usually difficult to navigate and move equipment in & out of easily, which puts the benefits portable diesel generators to good use. Diesel generators can provide a continuous source of power for all related oil & gas activities, such as drilling, pumping, and loading. Portable diesel generators can help power equipment, such as drilling machines and other heavy equipment to provide reliable power where ever, whenever.
Manufacturing Facilities & Processing Plants
Diesel generators can help manufacturing facilities and processing plants in the event of a power outage. A backup commercial diesel generator can help keep facilities and plants in maintaining regular operations, regardless of the situation. Without backup power, key equipment can be rendered inoperable. If manufacturing processes involve perishable goods, it could result in loss of not only inventory, but productivity, which can ultimately lead to profit loss.
Data Centers
Many companies rely on data centers to store, backup, and process crucial information. Data centers are expected to continuously run at 100%, due to the critical roles in processing, storing, and handling sensitive data. Power loss due to power outages can negatively impact data center processes, including loss of data. Diesel generators are a commonly used solution to ensure that all data remains intact and all data center operations can continue uninterrupted in the event of a power outage.
Telecom Towers
Telecommunications towers aren't solely relied on by millions to make phone calls and send text messages. Telecom towers are also vital in enabled emergency responders, police, hospital staff, and many others that are involved in mission-critical operations to communicate with one another. Imagine that a power outage occurs and the telecom towers go down? Communications in that area would cease. Diesel generators are commonly used to provide backup power to telecom towers and ensure that continuous communication channels can remain up and running for those critical moments.
While these are some of the big industries that commonly rely on diesel generators to provide backup and continuous power for their operations, there are additional industries such as agriculture, animal husbandry, marine use, disaster relief, and more.
If you are looking for a used diesel generator or looking for more information for your business operations, industrial applications, or facilities like medical, educational, or data center, please reach out to us at Woodstock Power Company.
Give us a call or send us an email: 610-658-3242 or sales@woodstockpower.com
Additionally, you can fill our our Contact Form with any questions or inquiries and our representatives will get right back to you.
The Woodstock Power Company Experience
We have industry experts that focus on commercial backup power generator sets, with in-depth industry knowledge to help you choose the right generator that fits your needs. We supply generators to commercial real estate properties, industrial real estate properties, data centers, hospitals, commercial business facilities, and more!
Our experts are ready to assist you from answering any questions you may have about power generator sets to helping you find the best selection in our inventory based on:
Peak & Average Power Requirements
Fuel Preference (Natural Gas or Diesel)
Portability & Stationary Power
Prime & Standby Generator Requirements
Available Space & Exhaust Restrictions
Our experts are also able to help coach you on prime, continuous, and standby power generators, as well as finding the best surplus, new, or used generator that best fits your required application.
We carry only the most top rated new, used, and surplus power generator sets for sale, providing you with a great value generator that will fit your budget.
Our generators have been thoroughly inspected, serviced, and verified, which ensures that you will be buying a quality generator that you can depend on. If a generator is not up to par with industry standards, we make all necessary repairs or modifications, and fully test every generator before we sell. This ensures a full turnkey generator that's ready to fire up and go!
Due to our wide selection of generator sets, we're confident that we can find the model that best suits your operational needs.
We also buy used generators in good quality, if you have already upgraded and you're looking to sell your older model.
Feel free to contact us with any questions, concerns, or inquiries to learn more about the Woodstock Power Company experience and the quality level of products & services we provide.