Used Generators Diesel: 3 Benefits of Diesel Generators
Whether you're searching for a new primary power source or a reliable backup for your business, it can be difficult to know what type of generator best fits your needs. While older models of diesel generators were loud and required lots of maintenance, new technology has brought diesel generators into the future. They're quieter, require less upkeep, and can be an indispensable addition to any business. Woodstock Power sells a variety of used generators diesel that provide businesses with an efficient, safe power source that is completely off the grid.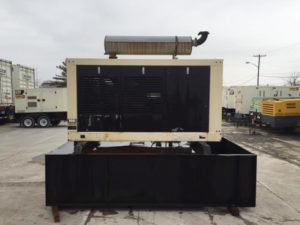 Purchasing Used Generators Diesel From Woodstock Power Will Benefit Your Business
When it comes to used generators diesel, Woodstock Power offers only the best equipment. If you're considering whether diesel is the way to go, remember that:
1. Used generators diesel are extremely fuel-efficient.
Rather than running on natural gas, diesel generators obviously run on diesel fuel. The price of diesel is usually higher than that of natural gas, but the initial cost pays off down the line. The energy density of diesel fuel is higher than that of gas which means that you get more energy (or power) out of diesel, for a longer amount of time. So even though you might spend more to fill up the fuel tank, diesel will last longer and be more powerful than if you were filling up on natural gas.
2. Diesel generators have a longer lifetime.
Diesel generators of the past often required a lot of maintenance and upkeep, but today's modern ones are sturdy and reliable. Because diesel generators do not have an electrical ignition system, spark plugs, or other wires, there are less factors that can go wrong when they're operating. This reduces the need for frequent maintenance, and the cost of upkeep.
Diesel generators also run at a lower temperature than natural gas generators, allowing them to efficiently power your workplace or home for a significantly longer amount of time. Woodstock Power sells only the most durable and well-maintained used generators diesel.
3. Used generators diesel are safe to operate.
When it comes to issues of safety, diesel generators rank pretty high. Diesel is less flammable than natural gas, and because diesel generators do not require spark plugs or lots of wiring, the risk of unexpected fires is greatly reduced.
Whether you're looking for a backup generator or machinery that runs every day, the benefits of diesel generators are undeniable. If you're in the market for used generators diesel, Woodstock Power is the reliable and smart choice.