Pros & Cons: New vs Used Generators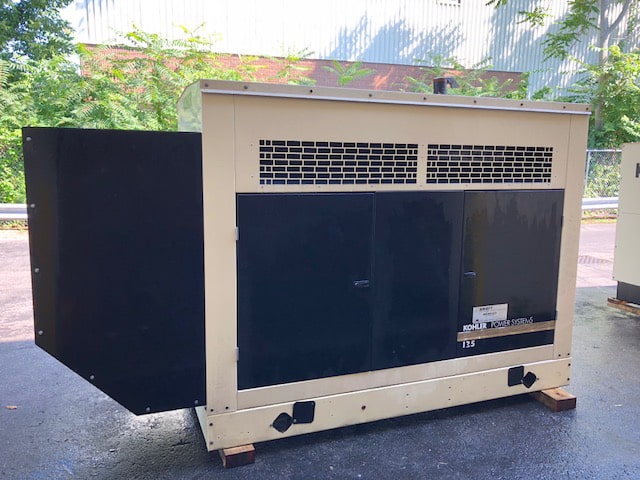 A commercial generator for business operations, industrial applications, and high performance facilities can be a critical asset when it comes to facing power outages, Winter weather storms, hurricanes, super storms, and other natural disasters. A dependable commercial generator used for backup power can help mitigate downtime, reduce profit loss, and maintain safe working environments for employees.
When considering a generator purchase, there are many items to review and consider, such as:
While these are only some of the major items to consider as first steps, there is an item that is often overlooked. Should you purchase a new or used generator?
New Generators
When most businesses and facilities managers look towards investing in a commercial generator for backup and emergencies, they often tend to think that newer is better. New generators are a great choice for those who can afford the costs of purchasing one.
There are also a number of benefits associated when buying new generators, such as:
Latest make & model
No hours
Manufacturer's warranty
EPA Tier 4i and Tier 4F compliant
While buying a new generator is certainly an option for some, it might not be the most optimal solution for others. As with any item, good, service, or machinery there are pros and then there are cons.
The downsides to buying new generators include:
New generators are usually made to order, adding to lead time
Higher acquisition cost
Less flexibility for modifications
Used Generators
Used generators for commercial and industrial purposes are a great alternative to purchasing brand new generators. There has always been a negative connotation with the word "used", but that should not deter someone from considering the purchase of a used generator. You can more often than not depend on industrial grade quality that's built to last even with used generators.
Used generators are often sought out en lieu of new generators for a variety of reasons.
The benefit to purchasing a used generator includes:
Immediate availability, which equates to low lead time
Faster purchase, delivery, and installation turnaround time
Savings of up to 40 – 50% when compared to a new generator purchase
Low hours
Greater selection of brands and models available
Wider variety of upgrades and aftermarket additions
Serviced, tested, and certified to run in top condition
The downsides to buying a used generator include:
Usually no manufacturer's warranty
Older used models may only meet older EPA Tier requirements & cannot be used for prime applications
May be have cosmetic wear
Additional Generator Options
Surplus Generators
Surplus generators are lesser known purchase option for many people. Surplus generators are usually generators that may have never been used, but are an older model compared to the latest available generator product lines. Surplus generators are typically a batch of bulk generators sold in one package. These generators are usually sold for a lower price point, as it is considered a bulk sale.
Surplus generators are a great choice for buyers who want to buy a generator that is new, but don't want to pay the extra money for the latest models.
Rental Generators
If a generator purchase does not make sense for your business or operations, there is another alternative. For businesses and operations that may only need short-term or temporary power for a project or for emergency backup power, commercial rental generators could be a great choice.
Rental generators are great for those who work on sites that are located off the power grid. Rental generators are often portable, so they can be moved from location to location on a work site. Depending on the rental generator option, the price could be easily more affordable for more businesses and operations to employ for short-term work or those looking for a temporary solution.
Rental generators usually have the following features that make it a great temporary solution for use in various industries:
Voltage Selector Switch
Chassis for ease of transportation
Can be run in prime or continuous power settings
Additional benefits of rental generators can be found here.
If you're looking for a generator for your business operations or industrial applications, but worried about the cost – Woodstock Power Company can help with purchasing options!
We offer leasing, affordable financing, long-term, and short-term rentals on commercial generators in our inventory.
The Takeaway
There is no one right answer to which generator you should buy for your business or industrial application. The selection of a generator for commercial or industrial applications depends on preference, budget, power needs and requirements, application, available space, and room size requirements.
The Woodstock Power Company Experience
We have industry experts that focus on commercial backup power generator sets, with in-depth industry knowledge to help you choose the right generator that fits your needs.
Our experts are ready to assist you from answering any questions you may have about power generator sets to helping you find the best selection in our inventory based on:
Peak & Average Power Requirements
Fuel Preference (Natural Gas or Diesel)
Portability & Stationary Power
Prime & Standby Generator Requirements
Available Space & Exhaust Restrictions
Our experts are also able to help coach you on prime, continuous, and standby power generators, as well as finding the best surplus, new, or used generator that best fits your required application.
We carry only the most top rated new, used, and surplus power generator sets for sale, providing you with a great value generator that will fit your budget.
Our generators have been thoroughly inspected, serviced, and verified, which ensures that you will be buying a quality generator that you can depend on. If a generator is not up to par with industry standards, we make all necessary repairs or modifications, and fully test every generator before we sell. This ensures a full turnkey generator that's ready to fire up and go!
Due to our wide selection of generator sets, we're confident that we can find the model that best suits your operational needs.
We also buy used generators in good quality, if you have already upgraded and you're looking to sell your older model.
Feel free to contact us with any questions, concerns, or inquiries to learn more about the Woodstock Power Company experience and the quality level of products & services we provide.
610-658-3242
sales@woodstockpower.com