Items to Consider Before Buying a Natural Gas Generator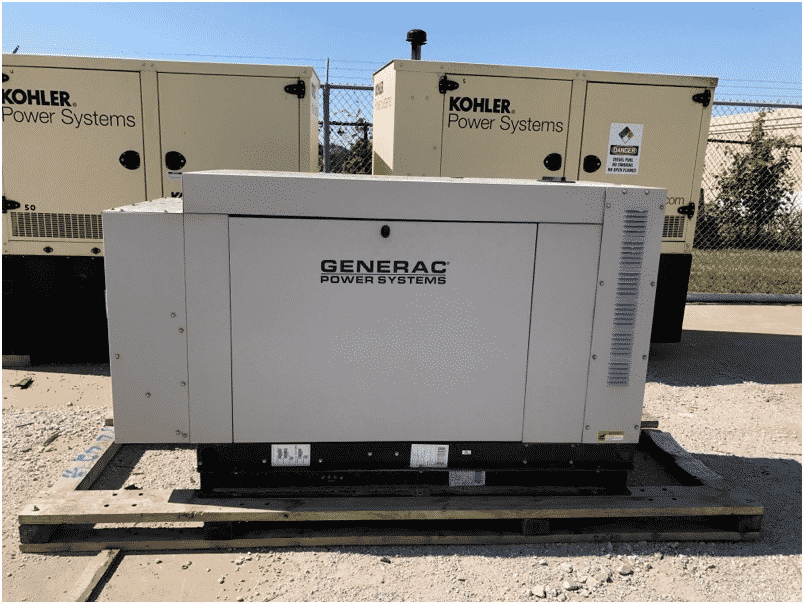 Natural gas generators in commercial and industrial build variants are a popular choice, especially in urban environments. The reason being is that natural gas generators generally produce less noise and the fuel burns cleaner than their diesel counterparts. In fact, natural gas is considered one of the cleanest fossil fuel energy sources used in generators. The single largest benefit of natural gas generators is the fact that they can be connected directly to the local gas line, removed the need and challenges of fuel storage. Natural gas generators aren't without their downsides. Natural gas generators require more frequent service & maintenance when compared to diesel generators and utility companies often cut off gas supplies in the event of an emergency like natural disaster or pipe explosion. This effectively cuts off a natural gas generator's fuel source and renders it inoperable.
While natural gas generators bring along many upsides, there are also some downsides to consider.
Before making your natural gas generator purchase, be sure to review these items and keep them in mind:
Generator Cost
Natural gas generators are generally cheaper than their diesel counterparts. It's important to consider not just the cost of fuel, but upfront costs when it comes to the acquisition of a commercial generator, as that can affect your purchase decision.
Fuel
Natural gas generally maintains a low cost and is often less expensive than their diesel counterpart. This means that over a long-term assessment, overall operating costs will be lower when compared to using diesel fuel.
Fuel supply is also easy to acquire, as long as you can tap into the natural gas pipeline within your municipality. Unlike diesel generators that must have some sort of containment unit for diesel fuel storage, natural gas generators are exempt from that need. Barring any emergency like a natural disaster, utility failure, or other external factors, you won't have to worry about running out of fuel. If there is a possibility that the natural gas supply could be cut off, some natural gas generators have conversion kits available that allow generator operators to run liquid petroleum gas (or LPG for short) aka propane as a fuel source. An alternative is also to purchase a natural gas generator that can run on both natural and propane gas.
Emissions
Natural gas is considered the cleanest out of all fossil fuel sources, eliminating mercury, reduces carbon dioxide (CO2), nitrogen oxides (NOx), and sulfur dioxide (SO2).
Noise
Natural gas generators generally run a bit quieter than diesel generators, which is important if you are installing the generator in a generator room in an area that may have a local noise ordinance in place. If noise is a huge factor, there is a wide variety of generator housing known as sound-attenuated enclosures to help reduce the noise output.
Service & Maintenance
Natural gas generators require more maintenance, which can result in higher service & maintenance costs over a period of time and can also equate to potentially more downtime.
Safety
Natural gas is highly explosive. Natural gas generators rely on hoses and lines that could wear down and crack over time, allowing gas to leak through the cracks and lead to poisoning. If near any flammable, friction, or spark-ignited, it could lead to an explosion and/or fire. When conducting service and maintenance, it is important to pay extra attention to the hoses and lines.
Exposure
Natural gas generators begin to lose the ability to run and operate at their assigned power rating when temperatures are too cold (estimates are -20 degrees below zero). High altitudes can also affect a natural gas generator's performance and ability to operate.
Output Efficiency
Natural gas produces an estimated 40% less BTUs per unit when compared to diesel
Lifespan
Natural gas generators are known to have a shorter lifespan when compared to their diesel generator counterparts. This is because natural gas engines burn hotter than diesel engines.
If you're looking for a natural gas generator for your business operations, industrial applications, or facility, please reach out to us at Woodstock Power Company!
610-658-3242
Or fill out our Contact Form
THE WOODSTOCK POWER COMPANY EXPERIENCE
We have industry experts that focus on commercial generator sets, with in-depth industry knowledge to help you choose the right generator that fits your needs.
We are industry leaders in buying and selling used generators to fit the needs of many businesses, including commercial, industrial, medical, agricultural, and university. This includes facilities like hospitals, better living centers, nursing home, airports, hotels, resorts, restaurants, retail centers, manufacturing, production, and more.
Our experts are ready to assist you from answering any questions you may have about power generator sets to helping you find the best selection in our inventory based on:
Peak & Average Power Requirements
Fuel Preference (Natural Gas or Diesel)
Portability & Stationary Power
Prime & Standby Generator Requirements
Available Space & Exhaust Restrictions
We carry only the most top rated new, used, and surplus power generator sets for sale, providing you with a great value generator that will fit your budget.
Our generators have been thoroughly inspected, serviced, and verified, which ensures that you will be buying a quality generator that you can depend on. If a generator is not up to par with industry standards, we make all necessary repairs or modifications, and fully test every generator before we sell. This ensures a full turnkey generator that's ready to fire up and go!
Due to our wide selection of generator sets, we're confident that we can find the model that best suits your operational needs and budget.
We also buy used generators in good quality, if you have already upgraded and you're looking to sell your older model.
Feel free to contact us with any questions, concerns, or inquiries to learn more about the Woodstock Power Company experience and the quality level of products & services we provide.