Generators for Hurricane Season: Stationary or Portable?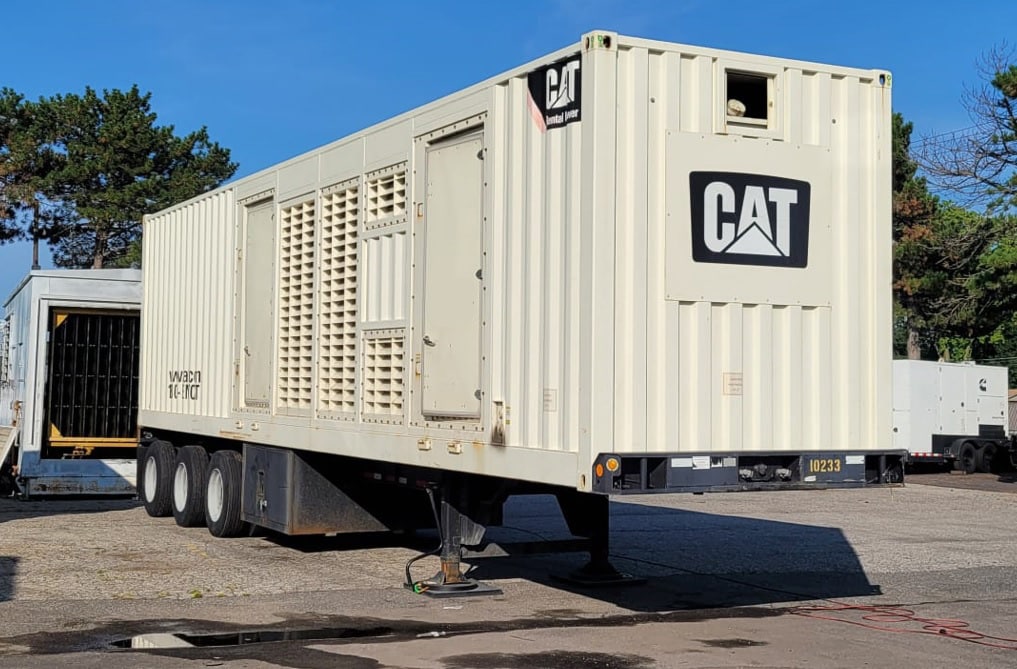 Hurricane season occurs annually in many parts of the United States. These natural disasters can negatively affect areas both directly and indirectly with torrential weather that can result in power outages or more. When dealing with natural disasters such as hurricanes, backup generators keep more than the lights on. Backup generators help keep key facilities, systems, and equipment running to ensure any vital operations needed for emergencies and disaster recovery efforts can be carried out accordingly.
There are two types of backup generators that are available to the market and most commonly used – stationary and portable generators. When considering a backup generator for your business or facility, it's important to assess which type would be the right fit for you.
Stationary Generators
Stationary generators are often installed in many facilities such as storm shelters, hospitals, medical services, ERs, telecom, and local municipalities in areas that are regularly affected by hurricanes on-site either outdoors near the building or indoors within a dedicated generator room specially built especially to house the generator. This ensures that key systems and operations can continue running when power to the main utility is down.
As stated previously, stationary generators (also known as standby generators) are installed either inside or outside the facility. These generators are connected to the building's main electrical panel and are usually installed with an automatic transfer switch that prompts the generator to run when power from the main utility is cut off and prompts the generator to turn off when power from the main grid is restored. These types of generators can provide extended backup power depending on the fuel type and configuration of the generator and usually only used for situations such as power outages.
it is important to note that stationary generators can be costly due to high initial upfront costs and costs of maintenance over the course of ownership. Added to that is any fuel cost and fuel storage/supply needs, but the benefits can often outweigh the cost when facing a power outage.
If there is ample space outside or inside the facility to accommodate a stationary generator and cost isn't as much of an issue, then a stationary generator can be a good fit for your needs.
More in-depth information regarding standby generators can be found here: What Is A Standby Generator?
Portable Generators
Portable generators are commercial/industrial grade generators that are mounted to a trailer and configured for external connection to a facility or equipment. These generator form factors are often used for facilities that cannot accommodate a standby generator, new construction sites, off-grid projects, or used in emergencies like disaster recovery efforts. Portable generators provide similar benefits to stationary generators, but are a bit more versatile in the fact that they can be transported from location to location as needed.
Portable generators are usually diesel generators, which enables users to refuel the generator as needed as long as a steady supply of diesel fuel is attainable.
Unlike stationary generators, portable generator rentals are available where customers can rent a generator for short-term needs and return them once they're finished. For businesses and facilities that seldom require backup power solutions, this can even be considered a cost effective backup power solution. When renting a portable generator, the generator dealer usually handles major service & maintenance before and after your rental to ensure that it is ready to go for the next customer. This removes a large cost of upkeep and maintenance that is associated with a stationary generator.
When considering a portable generator, it is important to keep track of expenses associated with the rental. While fuel costs will be expected, rental costs can add up over time and depending on the situation, it may be more cost-effective to purchase and install a stationary generator depending on rental frequency and needs. It's also important to consider any possible time lost while waiting for a portable generator to be delivered on-site and connected. We recommend establishing a rental contract with a generator dealer to reduce any delays in deploying a generator rental to your location. Portable generators are also not plug and play. Your facility must be configured to accept power from a portable generator and a master electrician is recommended to be on-site to ensure that all connections have been properly completed.
More in-depth information regarding portable generators can be found here: Situations Where You Should Rent a Generator
While both types of generators are robust solutions, it is important to consider your needs and the typical scenario where you would require a backup generator. For example: if your facility is located in an area negatively impacted by hurricanes, but seldom lose power then a portable generator may be a good solution. If your facility is located in an area where power outages are common, a stationary generator may be more beneficial in the long term.
If you're looking to learn more about backup generators for hurricane season or looking for consultation on which type of generator is right for you, please reach out to us at Woodstock Power Company!
Give us a call or send us an email: 610-658-3242 or sales@woodstockpower.com
Additionally, you can fill out our Contact Form with any questions or inquiries and our representatives will get right back to you.
THE WOODSTOCK POWER COMPANY EXPERIENCE
We have industry experts that focus on commercial generator sets, with in-depth industry knowledge to help you choose the right generator that fits your needs.
We are industry leaders in buying and selling used generators to fit the needs of many businesses, including commercial, industrial, medical, agricultural, and university. This includes facilities like hospitals, better living centers, nursing home, airports, hotels, resorts, restaurants, retail centers, manufacturing, production, and more.
Our experts are ready to assist you from answering any questions you may have about power generator sets to helping you find the best selection in our inventory based on:
Peak & Average Power Requirements
Fuel Preference (Natural Gas or Diesel)
Portability & Stationary Power
Prime & Standby Generator Requirements
Available Space & Exhaust Restrictions
We carry only the most top rated new, used, and surplus power generator sets for sale, providing you with a great value generator that will fit your budget.
Our generators have been thoroughly inspected, serviced, and verified, which ensures that you will be buying a quality generator that you can depend on. If a generator is not up to par with industry standards, we make all necessary repairs or modifications, and fully test every generator before we sell. This ensures a full turnkey generator that's ready to fire up and go!
Due to our wide selection of generator sets, we're confident that we can find the model that best suits your operational needs and budget.
We also buy used generators in good quality, if you have already upgraded and you're looking to sell your older model.
Feel free to contact us with any questions, concerns, or inquiries to learn more about the Woodstock Power Company experience and the quality level of products & services we provide.