Used John Deere Generators | We Refurbish This Trusted Brand
For the best deal and experience shopping for used John Deere generators, Woodstock Power Company is here to help. Our team expertly examines each unit before it is added to our inventory, refurbishing as necessary. We make sure every unit is up to our high standards. This includes having plenty of life left (our units have up to 95% life left!) and being in great, working condition, ready for use right after installation. With dedicated staff here to help you through the process, Woodstock makes purchasing a used generator and all of the steps following your purchase, a stress-free and fast process.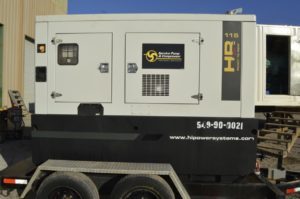 Why Choose Used John Deere Generators?
The John Deere company has been creating innovative, high-quality products for over 175 years. With such a long and rich history, John Deere has passed the test of time and continually proves itself to be a trustworthy brand. It's no wonder the company is a leader in the industry. Features of the John Deere company include:
Versatility: Ideal for small business or homeowners as well as larger facilities. John Deere manufactures a variety of sizes and styles of backup generators.
Safety: Each unit John Deere produces is CSA tested, guaranteeing safety.
Core Values: Like Woodstock Power Company, the John Deere company is dedicated to its customers. This means upholding high standards for its products as well as constantly innovating to produce the best products in the industry.
Shopping for used John Deere generators from Woodstock is a smart way to take advantage of all of the benefits of choosing the John Deere name, but at a huge discount. Buying used doesn't mean sacrificing on quality and our refurbished generators are sure to give you many years of backup power that you can rely on.
Used John Deere Generators From Woodstock Power
Thanks to Woodstock Power Company, finding a John Deere generator at an affordable price has never been easier. Our inventory is full of detailed information that is specific to each listing. We employ friendly, knowledgeable staff who are available by phone or email 24/7. Don't hesitate to reach out to us for help with anything from answering questions to helping you choose the right generator for your needs. We're here to help every step of the way, from finding your generator match to final installation of the product. We look forward to helping you find the perfect John Deere generator to suit your needs.
Contact Information:
Phone: 610-658-3242