Used Kohler Generators – Buyers & Sellers Connect Here
Whether you're looking to buy or sell used Kohler generators, Woodstock Power Company is a great place to start. For buyers and sellers alike, we simplify transactions, making the process as hands-off as possible for customers. We let our own trained staff, as well as our network of trusted partners, do all of the heavy lifting. We also handle all technical aspects to successfully transport and install or uninstall generators. Woodstock Power Company is an easy connection for used generator buyers and sellers!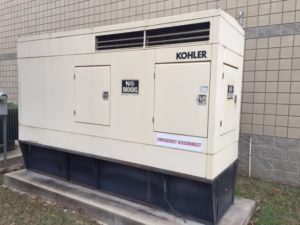 Used Kohler Generators: Best Place to Buy and Sell
Woodstock Power Company is raising the bar for industry standards. We are committed to maintaining trust, integrity, and vision. These key components enable us to uphold a reputable name among our clients. Other reasons to work with us include:
Fair Prices: For buyers, our units come at a deep discount. Save up to 75% buying used! For sellers, we offer competitive prices for your units and pay the complete balance at the time of each transaction.
Simplicity: From multiple guides across our site for self-help, to offering a complete line of additional services, working with Woodstock is an easy process. Whether you seek help with the basics, such as if diesel or natural gas is best for you, or with more technical questions, we can help every step of the way.
Excellent Customer Service: Available 24/7, our customer service is full of advice and will guide you through the used generator sales process. Don't hesitate to reach out to us.
Variety of Services: In addition to buying and selling used generators, our services include shipping, installation, gutting of data centers and more. Call our helpful staff to see what we can do for you.
Woodstock offers a wide range of services and friendly assistance to ensure all of your used generator buying and/or selling needs are met. When you work with Woodstock Power Company, know that satisfied customers are our top priority.
Why Choose Used Kohler Generators?
The Kohler brand offers something for everyone. With varied products such as home generators, small business generators, and portable generators, you're sure to find what you need from Kohler. Buying used is a smart way to save up to 75% on this innovative, trusted brand.
It's easy to get started buying or selling used Kohler generators with Woodstock staff here to guide you. Connect with Woodstock staff over the phone (610-658-3242) or via email (sales@woodstockpower.com); our staff is available 24 hours a day, so you can get answers and service quickly. For a fast and easy transaction from beginning to end, Woodstock Power Company is here for you.