Backup Power Options for Commercial & Industrial Real Estate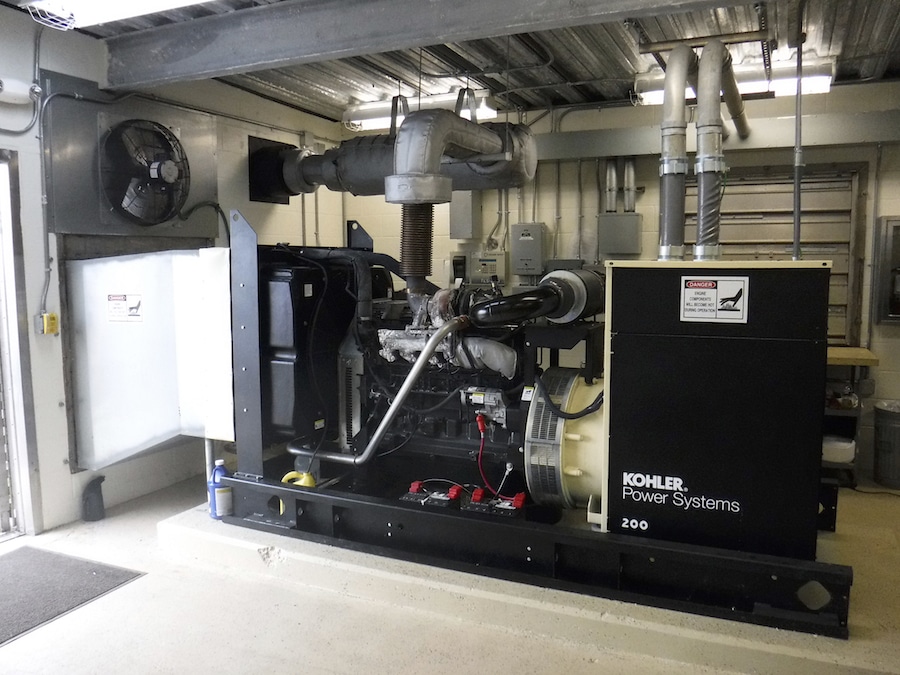 With the increase of severe super storms, inclement Winter-weather, natural disasters, and aging infrastructure of our power grid, there has been an increasing need for backup power within the commercial real estate and industrial real estate industries. Whether you are a business owner, landlord, facilities manager, commercial property management company, data center manager, or your business is in industrial real estate, power loss due to power outages can be crippling to your company's productivity and result in loss of profits.
In order to mitigate loss of productivity and profit loss, as well as to maintain safe working environments both employers and employees, there has been an increasing demand of commercial generators for businesses. In the event that there is a power outage, backup commercial generators used for these emergency situations can help with not only keeping the lights on, but can keep key equipment and components up and running, as well as maintain safe working environments for employers and employees.
So what are the options for backup power?
The two most common options are UPS (Uninterruptible Power Supply) systems and Standby Commercial Generators.
UPS (Uninterruptible Power Supply)
A UPS is a backup battery that provides a continuous supply of power to a property if the main power fails.
A UPS can be paired together with a standby commercial generator to provide longer-term backup power solutions.
The reason for this is due to the fact that a UPS cannot supply power for a long duration of time. Most UPS units typically only provide enough backup power for minutes, which are generally considered to be adequate for short power outages. Additionally, the integration of UPS systems can also be used to give enough time for a standby generator to switch on and become the primary source of backup power in the event of a power outage.
Standby Generators
Standby generators are able to provide power for a longer duration of time, in which the duration of operating time depends on fuel type and configuration of the generator.
While diesel generators are the most common preference for emergency backup power and standby generator selections, the maximum duration of time that a diesel generator can operate is limited by the capacity of its fuel tank. An additional factor to consider is the ability to secure a steady source of diesel fuel to replenish the tank. This can be particularly challenging in the event of power outages caused by inclement weather such as a blizzard or natural disasters, such as earthquakes, tornadoes, or hurricanes.
Natural gas generators are not limited by tank sizes, as they connect directly to the gas pipeline. Natural gas generators are a great alternative if the installation location can be connected to the main gas pipeline. The downside is that in specific emergencies, such as earthquakes – gas lines are the first resource that are cutoff by utility companies, due to the potential hazards that can arise (fires leading to gas explosions, gas exposure to the open air, gas released into the atmosphere, etc.), which will prevent a natural gas generator from providing backup power due to lack of fuel supply.
Installing a UPS System
Installation of a UPS system involves multiple factors that must be taken in consideration. One of the main factors to focus on is will you be installing it in-house or will you need to contract a company to install the UPS system?
Assessment
Installation of a UPS system doesn't equate to simply buying equipment. Installation of a UPS system must be expertly integrated to meet any and all needs or requirements. Careful, detailed planning and execution is required in order to successfully install a UPS system.
After determining who is handling the installation, the next step would be to determine what type of UPS system will best fit your needs.
This can be best approached by asking the following:
What is the purpose of the UPS system and what will it cover?
What key components and equipment will it be covering? Production equipment? Manufacturing equipment? Data center servers? It is vital to establish what needs to stay up and running.
Is your utility company reliable?
UPS systems are not all the same. Simply stated, there are a variety of UPS systems out in the market, with some being more durable, resilient to severe operating environments, and have a higher tolerance for power issues.
How badly does downtime impact you?
Downtime in general is bad news for any business operation, industrial application, or facility, but downtime might be worse for some when compared to others. Some businesses can get by with only using one UPS system, as downtime due to power outage may not drastically impact their day to day operations in comparison to others.
If your business won't be affected too much by downtime due to power outage, you may be able to install a single UPS system to handle specific loads to keep up key equipment or systems.
If your business will be greatly impacted by downtime due to power loss or power outage, then you may need to install multiple redundant UPS systems in order to mitigate downtime.
Installation
Prior to the actual installation of the UPS system, it is highly advised to perform a site survey. A site survey will help determine the best location and design layout for your UPS system prior to installation. Upon completion of the site survey, move onto the installation plan.
Once you have decided on which UPS system to use and have confirmed the layout, execution is the key factor. Poor project management and communication can lead to undesirable results. This is where scheduling a project kickoff meeting prior to execution can be a good way to make sure everyone involved is all on the same page.
A project kickoff meeting will not only help coordinate all involved members of the UPS installation project, but it will also help identify key items regarding the project:
Department Affected During Installation
Project Timeline
Logistics
System Testing
Risks
Operations & Training
Completion
After the installation process is completed, be sure to coach all employees that may need to deal with the UPS system. Additionally, it is important to establish an inspection and maintenance period in regards to the UPS system. This will help identify any potential problems that may affect the UPS system in the future.
Installing a Standby Commercial Generator
Installation of a standby commercial generator is also an involved process to ensure that the building or premises can support the generator that will be installed. Commercial generators are often large and produce a high volume frequency that can cause noise disruptions for many. Commercial generators also produce exhaust or emissions, which can become hazardous to employees if it is not vented properly.
A fair amount of planning goes into installing a commercial generator. A short guide to installing a commercial generator can be found here.
If your company owns the building, then make sure you speak with your facilities manager regarding the process of installing a generator and reference the link we provided to get started.
If your company is leasing the building, then the first thing to check would be the leasing contract. The leasing contract might state if your company is permitted to install a commercial generator or allowed to alter the premises without consent from a landlord.
If your company is leasing only part of the building, the landlord or fellow tenants may already have a standby commercial generator already installed. If this is the case, you should speak with the landlords or tenants to see if you may also be able to benefit from use of the generator.
If you have checked the leasing contract and have the authorization from the city to install a commercial generator, then make sure you follow requirements and guidelines associated with the installation of a commercial generator, which can be found here:
Backup Generators for Commercial Real Estate
The Woodstock Power Company Experience
We have industry experts that focus on backup commercial generator sets with in-depth knowledge to help you choose the right generator that fits your needs. We also specialize in installation of commercial generators for your business operations, industrial applications, or facilities such as commercial real estate, data centers, industrial real estate, and more.
Our experts are ready to assist you from answering any questions you may have about commercial generator sets to help you find the best selection in our inventory based on:
Peak & Average Power Requirements
Fuel Preference (Diesel or Natural Gas)
Portability & Stationary Power
Prime & Standby Generator Requirements
Available Space & Exhaust Restrictions
Our experts are also able to help consult you on prime, continuous, and standby power generators, as well as finding the best surplus, new, or used generator that best fits your required application.
We carry only the most top rated new, used, and surplus commercial generator sets for sale, providing you with a great value generator that will fit your needs and your budget.
Our generators have been thoroughly inspected, serviced, and verified, which ensures that you will be buying a quality generator that you can depend on. If a generator is not up to par with industry standards, we make all necessary repairs or modifications, and fully test every generator before we sell. This ensures a full turnkey generator that's ready to fire up and go!
Due to our wide selection of generator sets, we're confident that we can find the model that best suits your operational needs.
We also buy used generators in good, running condition. If you have already upgraded and you are looking to sell your used generator, then please reach out to us!
Feel free to contact us with any questions, concerns, or inquiries to learn more about the Woodstock Power Company experience and the quality level of products & services we provide.
Give us a call at 610-658-3242 or send us an email at sales@woodstockpower.com!
You can also fill out our Contact Form and our representatives will get right back to you!