Used Cummins Generators – We Buy & Sell Used Generators
Whether you're looking to purchase a Cummins generator at an affordable rate or to sell a Cummins generator that you own, Woodstock Power Company has you covered. We buy and sell used Cummins generators and ensure that every transaction leaves our customers fully satisfied. With that goal in mind, we provide top notch customer service and extend our reach and what we can offer by partnering with a network of trusted professionals.
The Cummins brand is known to be a "world leader in the design and manufacture of power generation equipment." Cummins produces a variety of reliable, high-quality generators. Woodstock is proud to offer a variety of pre-owned Cummins generators for sale, up to 70% off original prices. We also offer top dollar to those looking to sell used Cummins generators.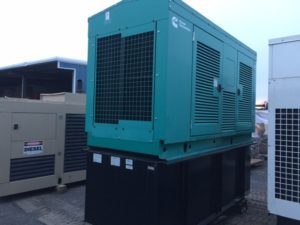 Buy & Sell Used Cummins Generators with Ease
It's simple to buy and sell generators with Woodstock. From the personal touch offered by our customer service staff to a variety of guides available on our site, we aim to simplify the process. Benefits to choosing Woodstock for your generator buying and selling needs include:
The best in Customer Service: A personal experience that shows each customer they are valued is our aim. We provide friendly, supportive service and can help with any questions you may have. Our staff is available anytime, day or night.
Trusted Partnership: We team up with a number of professionals in different fields so that we may offer you complete service when it comes to buying and selling generators, and everything in between. Working within a trusted network also means we can proudly offer our services in a wider area. We currently serve consumers across the US and parts of Canada.
Detailed Inventory: Each listing in our inventory is full of detailed information and includes multiple photographs. Our goal is to make it as easy as possible for consumers to find the right generator, and that means getting all of the information you need before you buy.
Additional Services: From generator removal to industrial generator installation Woodstock has you covered. Members of our professional staff and partner network can assist with everything from questions about doing business with us to the installation of a generator. Working with Woodstock is hands-off for the customers, allowing every transaction to be completed with ease.
Woodstock for Premium Used Cummins Generator Services
Count on Woodstock Power for guaranteed quality and customer service that lets you know you're valued. Our staff is available 24 hours a day to answer your questions and assist you whenever is convenient for you. Call or email us today; we look forward to helping you with all of your used Cummins generator needs!
To reach us by phone, dial 610-658-3242
Or, email us at sales@woodstockpower.com