Used Detroit Diesel Generators | Simple Buying & Selling
When it comes to buying and selling used generators, Woodstock Power Company is the best in the business for simplicity. We offer assistance to our clients throughout the process, making sure all transactions are as smooth and efficient as possible. For a great deal on used Detroit Diesel generators, or for help selling one for 100% upfront payment and a great price, count on Woodstock.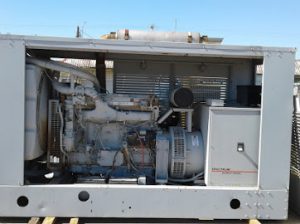 Easy Transactions on Used Detroit Diesel Generators
Why choose Detroit Diesel for your next generator? Detroit has been a leader in the industry since its beginnings in 1938. Having built millions of engines since its founding, Detroit Diesel is an experienced company you can depend on.
Whether you're looking to buy or to sell, Woodstock makes every transaction easy in the following ways:
Excellent Customer Service: Making transactions easy for our clients and overall customer satisfaction are some of our top priorities. With these goals in mind, we are pleased to offer access to live customer service 24/7. Just dial 610-658-3242 to speak with someone directly to discuss any part of the used generator sales process you need assistance with; we're happy to help.
Various Help-Yourself Guides: Across our site, you will find select guides and blog entries aimed at making the sales process easier. These include determining which type of fuel is best for you as well as a guide to power calculations & formulas.
Trusted Network of Partners: We team up with a network of trusted professionals in fields related to generator sales in order to offer seamless service. This includes shipping services across the U.S. and into Canada, installation services, data center gutting and more.
Woodstock's vast and ever-growing inventory includes Detroit Diesel generators such as a 1998 255 kW Spectrum Natural Gas Generator. We assist with the entire sales process and offer a complete line of services so transactions are mostly hands-off for clients.
Woodstock Power for Used Detroit Diesel Generators
Woodstock Power Company operates on 3 key components: trust, integrity and vision. We believe in keeping our sales process transparent and simple to best serve clientele. Our dedication to service and quality have proven us to be a well-trusted generator sales company. With a wide range of services including buying and selling used generators, generator rentals and generator emission upgrades, we're sure to be able to meet your needs.
To get in touch with our team any time of day dial 610-658-3242 or reach us by email at sales@woodstockpower.com. With Woodstock Power Company, buying and selling used generators has never been easier.