Follow These Safety Tips When Using a Portable Generator
When the power goes out at your home or business, having a portable generator can be a lifesaver. At the same time, it can also be highly dangerous if you aren't educated on how to properly operate the machine. To help you avoid generator-related accidents, Woodstock Power would like to provide you with a few generator safety tips:
Because generators can produce large amounts of poisonous carbon monoxide, they should never be run inside of a home or in an enclosed area such as a garage. Plus, you should make sure the environment where you're going to be running your generator is well ventilated and isn't near any doors, windows or vents. Taking these precautions will prevent accidental injury or death due to carbon monoxide exposure.
Keep your generator fuel in a container that is clearly labeled and only used to hold that specific substance. The fuel should be stored in an area that is far away from living spaces, such as a backyard shed.
When it's time to add fuel to your generator, make sure it is turned off and cooled down. Trying to refuel when the generator is running or warm can cause damage to the machine and may also pose a safety risk.
If you have young children, don't let them go near your generator. Teach them that the machine is not a toy and that it can hurt them if they get too close to it.
Always turn off the appliances that are being powered by your generator before shutting it off. Doing so will reduce your risk of electric shock.
Before using a generator, find out what the maximum load is for the specific machine and be careful not to exceed it.
When you comply with these generator safety tips, you'll enjoy the convenience of a portable generator without having to worry about hurting yourself, your business associates or your loved ones.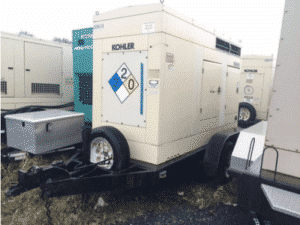 Thinking of Buying a Portable Generator? Contact Woodstock Power
If you're seeking a reliable, reasonably priced portable generator for your home or business, look no further than Woodstock Power. We offer a huge selection of used diesel and natural gas portable generators guaranteed to perform as if brand new. Plus, we sell industrial and commercial generators, HVAC equipment and so much more!
So what are you waiting for? Don't be left in the dark – reach out to Woodstock Power today by calling 610-658-3242 or visiting us on the web. We look forward to helping you buy a portable generator that will perfectly meet your power needs!