Benefits of Stationary vs Rental Generators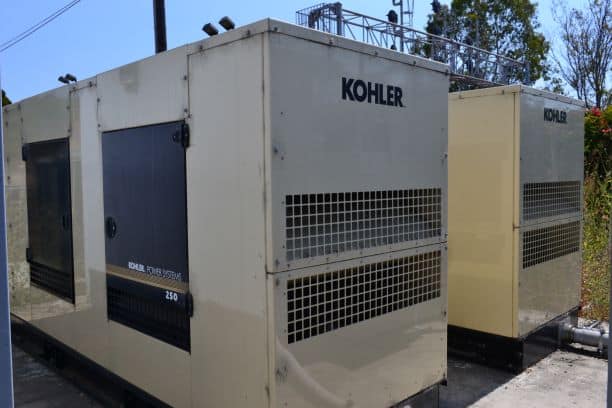 While rental generators provide portability, durability, and versatility to businesses and operations for temporary power when facing power outages, emergencies, or natural disasters, there are also many benefits to buying a stationary generator.
So what are the benefits of buying a stationary generator vs using a rental generator?
Price
Stationary standby generators are significantly cheaper in the long run. If your business or operations is using a rental generator for a prolonged period of time or required to constantly extend the rental period, those costs can add up. While the costs may not compare to the cost of a brand new commercial generator, they can have a significant impact on your profits and spend.
A great alternative to purchasing a new commercial generator or using a commercial rental generator is to buy a used commercial generator. Used generators are a great choice, because they average around 40 – 50% less in comparison to the cost of a new generator. Depending on the needs, duration, and terms of a rental generator, buying a used generator may even end up being cheaper than the rental unit.
If your power needs are temporary and short-term, specifically for a small project or for a brief power outage, then portable generators may be a cost-effective alternative to your power generation needs. Portable rental generators will generally cost less, because you are only paying a rental fee and will not have to worry about the associated installation costs of a generator (for example concrete foundation pad), service, and maintenance. The only out of pocket costs you may incur in regards to the rental is the transportation fee, the fuel costs, and cost to hire a master electrician to help configure the generator to fit your needs.
Longevity
Installing a stationary commercial generator in your business or operations location provides security where a portable rental generator does not. Stationary generators can be installed with a larger fuel tank that can provide more power over a longer period of time when compared to portable rental generators. In order to increase the fuel capacity in a rental generator, a fuel cube (also known as a day tank) must be placed near the rental generator.
A benefit to portable rental generators is simple. You are not generally on the hook for any service & maintenance of the generator, but only for the rental itself, fuel costs, and any repairs if you happen to cause damage to the generator. Portable rental generators are designed to be short-term, temporary solutions that you can leverage only when needed, so the longevity of the portable generator generally should not concern you.
That being said, commercial generators on a whole are designed and built to be sturdy, robust, long-term backup power solutions and are manufactured to last for many years. If the generator is seldom used, but well serviced & maintained on a regular basis, the life expectancy of a generator could well exceed 10 or 20 years.
Convenience
While the term "portable" in most rental generators is most commonly used, that term in and of itself is deceiving. While it is true that the rental generator may be portable, it is not a simple process such as transporting the generator to a location and turning it on. Each and every time you want to set up a portable rental generator, you would need to have an electrical contractor go to the worksite and attach cables correctly, complete the proper setup, and make sure all the settings are in order before being able to power on and use the rental unit.
This can be problematic, especially if your worksite, location, business, or operations is in a state of emergency, as it may be difficult to bring an electrical contractor on-site to complete the task of cabling when you need them.
In addition, a rental generator must also consist of the following:
Voltage Selector Switch
Chassis for ease of transportation
The Takeaway
There is no "one-size fits all" to commercial generators for business facilities and operations. While some businesses like data centers, medical facilities, and water treatment facilities may require a stationary generator installed on-site for long-term backup power, the same may not apply to construction and demolition companies who would be able to benefit from short-term, temporary power like a rental.
The Woodstock Power Company Experience
We have industry experts that focus on power generator sets, with in-depth industry knowledge to help you choose the right generator that fits your needs.
Our experts are ready to assist you from answering any questions you may have about power generator sets to helping you find the best selection in our inventory based on:
Peak & Average Power Requirements
Fuel Preference (Natural Gas or Diesel)
Portability & Stationary Power
Prime & Standby Generator Requirements
Available Space & Exhaust Restrictions
Our experts are also able to assist you with any questions or inquiries on any stationary and rental generators.
We carry only the most top rated new, used, surplus, and rental power generator sets for sale, providing you with a great value generator that will fit your budget.
Our generators have been thoroughly inspected, serviced, and verified, which ensures that you will be buying a quality generator that you can depend on. If a generator is not up to par with industry standards, we make all necessary repairs or modifications, and fully test every generator before we sell. This ensures a full turnkey generator that's ready to fire up and go!
Due to our wide selection of generator sets, we're confident that we can find the model that best suits your operational needs.
We also buy used generators in good quality, if you have already upgraded and you're looking to sell your older model.
Feel free to contact us with any questions, concerns, or inquiries to learn more about the Woodstock Power Company experience and the quality level of products & services we provide.
Reach us at 610-658-3242 or send us an email at sales@woodstockpower.com.
For any questions, please give us a call or fill out our Contact Form.
If you have a used commercial generator in good, running condition that you are looking to sell, fill out our Seller's Form and our specialists will get back to you as fast as possible!