What Are Mobile Cryptocurrency Mining Containers?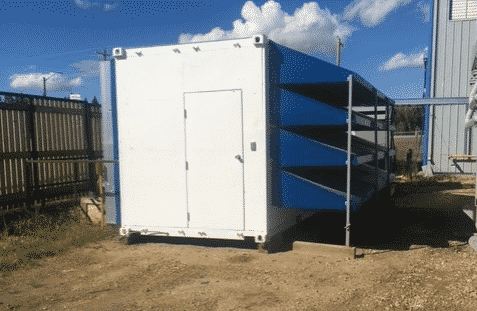 While traditional cryptocurrency mining operations started off within homegrown operations and data centers, an increasing trend has been on mobile cryptocurrency mining containers. As the boom of mining cryptocurrency like Bitcoin and Ethereum has increased, so did the need for power to process these mining operations. Mining for cryptocurrency results in a large power requirement and can draw a lot of electricity from the grid which not only puts a strain on the main utility but can also add up in electrical costs to the end user.
Mobile cryptocurrency mining containers has been one solution that has become an increasingly robust solution in not only bringing down electrical usage from the main utility grid, but also helps save in electrical costs for end users while mining for cryptocurrency.
What is a mobile cryptocurrency mining container?
The simplest explanation is a mobile crypto mining container is often a shipping container or portable trailer that has been retrofitted to support multiple crypto mining rigs within. Think of a data center on wheels stored inside a shipping container, except instead of running servers, they're running multiple crypto mining rigs.
These containers house additional required components such as fans and cooling systems that keep the machines running without overheating. Since miners tend to run indefinitely, there is always a large amount of heat produced and excessive heat can negatively impact or even shut down mining operations due to equipment failure.
Electrical components also installed and wiring throughout connect the mining rigs and set up to prevent any potential down time from power outages or random power surges. Power outages can of course halt mining operations and power surges can damage mining rigs rendering them inoperable. Proper wiring and electrical installation are critical for these applications due to this reason. Stable internet is configured to ensure that the miners can continue hashing (solving complex computational equations) without issue.
One of the biggest pieces to the mining container setup component wise lies in the generator. An industrial grade generator is found at the core of these mining containers because this is often what produces the electricity to run these mining operations.
Generator Options
When building out a mobile cryptocurrency mining container, a generator is usually sized to meet power demands of a fixed number of miners and installed to provide power whether as backup or as a primary power source. When it comes to these types of setups, diesel generators may be an option, but this may prove to be costly with many hurdles when it comes to infrastructure, as the cost of diesel fuel, the constant need to refuel the generator, and any storage and transportation of diesel fuel can add to the costs.
In a good majority of these operations, natural gas generators are more prominently used in these types due to the capability to run off stranded gas, also known as wellhead gas. Wellhead gas was previously considered a loss, as many oilfield operations are drilling for crude oil. Where companies were previously forced to either vent or flare any natural gas that was unearthed previously during drilling operations, using a natural gas generator within a mobile cryptocurrency mining container has provided another alternative that proves mutually beneficial to both parties.
What Do Natural Gas Generators Have to Do with Mining for Crypto?
While it may seem out of the ordinary, oil & gas companies have recently intersected with cryptocurrency companies to form an unlikely partnership. Cryptocurrency companies that specialize in employing mobile cryptocurrency mining containers install a natural gas generator within their container and move the container from location to location out in the oilfields. These containers carry a series of pipes that enable them to set up a fuel delivery system where the generator runs off any natural gas that may result from drilling for crude oil. This allows for cryptocurrency miners to run off a cheaper fuel source when compared to paying for energy usage on a centralized utility grid, as well as can create additional revenue for oil & gas companies that may end up with a good amount of stranded gas.
When using a mobile cryptocurrency mining container in this sort of application, it creates a great pairing that can benefit both parties.
More information on oil & gas companies intersecting with cryptocurrency markets can be found here: Cryptocurrency Meets Oil & Gas Industry
Benefits of Using a Mobile Cryptocurrency Mining Rig
While there are numerous benefits of using a mobile crypto mining container, there are many points that stand out to make it one of the more increasingly popular choices.
Cost Efficiency: While traditional cryptocurrency mining operations and setups have tied miners to the local utility grid, a mobile crypto mining rig can benefit from a decentralized energy grid running off stranded gas/wellhead gas. This can greatly reduce costs of energy to help maximize profit when compared to paying higher energy bills from the main utility.
Location: An advantage of a mobile cryptocurrency mining container over tradition data centers and homegrown setups is the ability to move the container from location to location. Often, miners will move their containers wherever there may be stranded gas and reap benefits of paying cheaper costs of energy, while continuing to mine for cryptocurrency. These containers can also be moved to locations that have overall cheaper gas prices from the main utility during certain periods of time. This means that miners are not locked into one location and have greater flexibility in where they want to operate.
Greener Choice: This is arguably one of the more controversial benefits depending on which side you're on but using a mobile cryptocurrency mining container that runs off of stranded gas is often considered a greener choice when compared to flaring or venting the methane gas released while drilling. Where venting the gas releases everything into the atmosphere, flaring burns up a good portion of the methane and converts the emissions into carbon dioxide. While flaring gas may be better than venting, it still does not burn off all the methane completely. The reason why using stranded gas in a mobile crypto mining container is considered a greener choice is because a natural gas generator burns up all the methane and the emissions are entirely carbon dioxide. While this may be considered the better choice, there are some who still consider any emissions produced to be bad.
While there is a lot involved in the cryptocurrency marketing, crypto mining operations, and with mobile cryptocurrency mining containers themselves, these are essentially the basics before you dive too deep in. Due to the everchanging nature of mining for cryptocurrency including any restrictions or laws in place regarding cryptocurrency, it's important to do as much research as possible before making any decisions. If you have any questions or would like to learn more, then feel free to reach out to us at Woodstock Power Company!
610-658-3242
Or fill out our Contact Form and our project managers will get back to you shortly!
THE WOODSTOCK POWER COMPANY EXPERIENCE
We have industry experts that focus on commercial generator sets, with in-depth industry knowledge to help you choose the right generator that fits your needs. We also work closely with industry partners that specialize in mobile cryptocurrency mining containers.
We are industry leaders in buying and selling used generators to fit the needs of many businesses, including commercial, industrial, medical, agricultural, and university. This includes facilities like hospitals, better living centers, nursing home, airports, hotels, resorts, restaurants, retail centers, manufacturing, production, and more.
Our experts are ready to assist you from answering any questions you may have about power generator sets to helping you find the best selection in our inventory based on:
Peak & Average Power Requirements
Fuel Preference (Natural Gas or Diesel)
Portability & Stationary Power
Prime & Standby Generator Requirements
Available Space & Exhaust Restrictions
We carry only the most top rated new, used, and surplus power generator sets for sale, providing you with a great value generator that will fit your budget.
Our generators have been thoroughly inspected, serviced, and verified, which ensures that you will be buying a quality generator that you can depend on. If a generator is not up to par with industry standards, we make all necessary repairs or modifications, and fully test every generator before we sell. This ensures a full turnkey generator that's ready to fire up and go!
Due to our wide selection of generator sets, we're confident that we can find the model that best suits your operational needs and budget.
We also buy used generators in good quality, if you have already upgraded and you're looking to sell your older model.
Feel free to contact us with any questions, concerns, or inquiries to learn more about the Woodstock Power Company experience and the quality level of products & services we provide.