Featured Generator: 57 kW Wacker Neuson G70 Portable Prime Diesel Generator Rental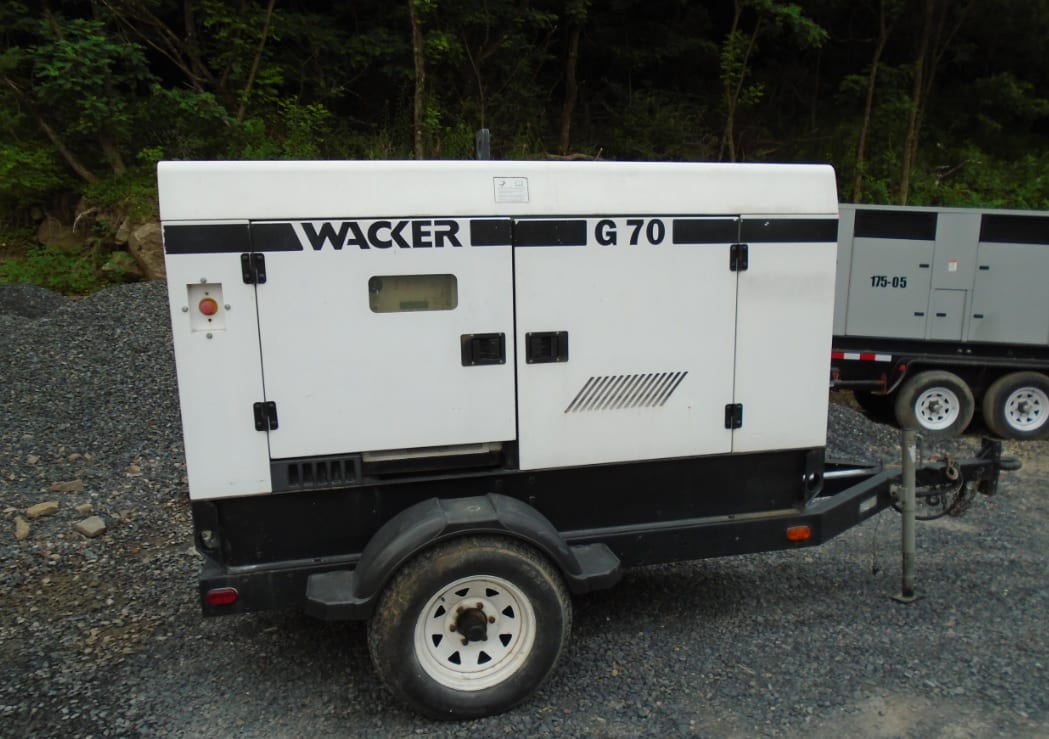 This unit has been sold and is no longer available.
Just in is a 57 kW Wacker Neuson portable diesel generator in prime power configuration available for sale or rent.
Aside from stocking our regular inventory of stationary backup generators, we have been expanding our product offerings with portable generator rentals. These portable, rental ready units provide many benefits to consumers and end users due to their versatility.
Portable diesel generators are a great backup power solution for those looking for either short-term backup power solutions in cases of hurricane preparation, disaster preparation, and disaster recovery operations. This generator can help provide power during blackouts due to natural disasters and can be used for grocery stores, a small office building, emergency facilities, small medical facilities, fish farms, or more!
Another benefit of portable generators is that they are great solutions for those working on remote projects that are located off the main power grid, but need access to a reliable power source to power up key equipment to accomplish tasks. This makes these units great for construction projects and light industrial applications.
This Wacker Neuson just rolled into our yard and is in great shape.
Features include:
– Year 2004 Manufacture
– EPA Tier 2
– Prime power configuration
– Sound-attenuated enclosure
– Single-axle trailer mounted
– Voltage selector switch
These generators can be configured at multiple different voltages at 3-phase, 60 Hz, 1800 RPM, with 12 lead reconnectability.
More details can be found here: 57 kW Wacker Neuson Portable Prime Diesel Generator Rental
If you're interested in this unit or looking for another portable generator that better fits your needs, please reach out to us at Woodstock Power Company!
Give us a call at 610-658-3242 or send us an email at sales@woodstockpower.com
Additionally, you can fill out our Contact Form and one of our representatives will get back to you shortly!
THE WOODSTOCK POWER COMPANY EXPERIENCE
We have industry experts that focus on commercial generator sets, with in-depth industry knowledge to help you choose the right generator that fits your needs.
We are industry leaders in buying and selling used generators to fit the needs of many businesses, including commercial, industrial, medical, agricultural, and university. This includes facilities like hospitals, better living centers, nursing home, airports, hotels, resorts, restaurants, retail centers, manufacturing, production, and more.
Our experts are ready to assist you from answering any questions you may have about power generator sets to helping you find the best selection in our inventory based on:
Peak & Average Power Requirements
Fuel Preference (Natural Gas or Diesel)
Portability & Stationary Power
Prime & Standby Generator Requirements
Available Space & Exhaust Restrictions
We carry only the most top rated new, used, and surplus power generator sets for sale, providing you with a great value generator that will fit your budget.
Our generators have been thoroughly inspected, serviced, and verified, which ensures that you will be buying a quality generator that you can depend on. If a generator is not up to par with industry standards, we make all necessary repairs or modifications, and fully test every generator before we sell. This ensures a full turnkey generator that's ready to fire up and go!
Due to our wide selection of generator sets, we're confident that we can find the model that best suits your operational needs and budget.
We also buy used generators in good quality, if you have already upgraded and you're looking to sell your older model.
Feel free to contact us with any questions, concerns, or inquiries to learn more about the Woodstock Power Company experience and the quality level of products & services we provide.