Benefits of Buying a Surplus Generator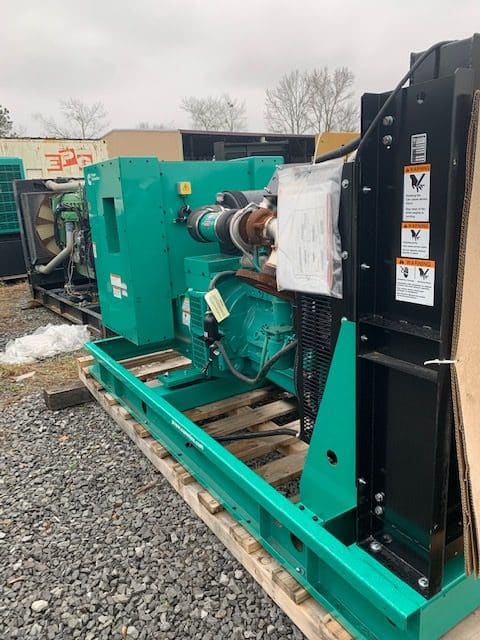 When it comes to installing a backup generator for your business or facility, your mind may immediately go to the latest and greatest generator set available. While there are innovations to brand new generator technology and may be considered cutting edge, there are alternatives that can help you not only safeguard your business or facility to ensure continued operations, but may also be more cost-effective.
Used Generators
Used generators are often a popular choice when looking for a backup commercial generator to provide standby power to your business or facility in the event of a power outage. While used generators are a popular choice, there may be some requirements involved. For example, different states require different EPA requirements. This could result in your generator needing to adhere to specific rules and regulations in order to be allowed for use for specific needs.
When buying a used generator, you need to consider quite a few items aside from the generator fuel type and selecting a generator that can sufficiently power your operations. Factors such as manufacturing year and EPA emissions can be equally important.
There are many factors that go into buying a used generator, which can be found here: How to Buy a Used Generator
Surplus Generators
While used generators are a popular choice and applicable for many businesses and facilities looking to ensure a reliable backup power source, surplus generators are an often overlooked solution.
Surplus generators produced and sold by generator dealers or manufacturers are essentially brand new generators that might have been sitting around in inventory for too long or was produced in excess and were not purchased before the end of that particular product life cycle.
In some cases, buyers may have fallen through and these manufacturers are left with extra generators in stock. These generators are brand new, have zero hours, and may only be a few years old at most. This greatly benefits the buyer by reducing the overall initial cost of acquisition, while still having a newer generator model.
Alternatively, there are pre-owned surplus generators that are often sold by companies, generator dealers, heavy equipment distributors, or even government auctions. These pre-owned surplus generators are usually sold in order to recover assets from their original investment or to liquidate excess inventory for lightly or unused equipment.
While surplus generators may cost a bit more than a used generator, they are often times a smart investment when comparing with new or used generators.
When ordering a new generator from a generator dealer or manufacturer, the process could take months due to the lead-time required to complete, review, test, and ship out the generator, whereas a surplus generator is already built and ready to go immediately. This drastically reduces wait time and virtually eliminates any lead-time required in acquiring the generator.
While there are more benefits to buying a surplus generator, these are the top items to consider. So if you're looking for your next replacement generator or generator upgrade for your business or facility, don't forget to take a look at surplus generators to see if it might be a good fit for your needs.
If you're looking to learn more about how the benefits of buying a surplus or used surplus generator can help your business or facility through power outages, please reach out to us at Woodstock Power Company!
Call us at 610-658-3242, send us an email: sales@woodstockpower.com or you can simply fill out our Contact Form and one of your specialists will get right back to you.
The Woodstock Power Company Experience
We buy used generators and we sell used generators. With your satisfaction in mind, we focus on providing the best possible experience when buying or selling a used generator.
We have industry experts that focus on commercial backup power generator sets, with in-depth industry knowledge to help you choose the right generator that fits your needs.
Our experts are ready to assist you from answering any questions you may have about power generator sets to helping you find the best selection in our inventory based on:
Peak & Average Power Requirements
Fuel Preference (Natural Gas or Diesel)
Portability & Stationary Power
Prime & Standby Generator Requirements
Available Space & Exhaust Restrictions
Our experts are also able to help coach you on prime, continuous, and standby power generators, as well as finding the best surplus, new, or used generator that best fits your required application.
Looking to buy used generators? Check out our inventory or give us a call and we'll set you up with a generator that best fits your needs!
We carry only the most top rated new, used, and surplus power generator sets for sale, providing you with a great value generator that will fit your budget.
Our generators have been thoroughly inspected, serviced, and verified, which ensures that you will be buying a quality generator that you can depend on. If a generator is not up to par with industry standards, we make all necessary repairs or modifications, and fully test every generator before we sell. This ensures a full turnkey generator that's ready to fire up and go!
Due to our wide selection of generator sets, we're confident that we can find the model that best suits your operational needs.
Additionally, we buy used generators in good quality, if you have already upgraded and you're looking to sell your older model. We offer maximum value paid on used generators and can deliver payment upfront.
Feel free to contact us with any questions, concerns, or inquiries to learn more about the Woodstock Power Company experience and the quality level of products & services we provide.