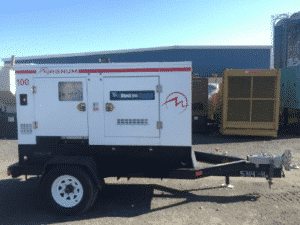 Before investing in a new or used commercial generator, your organization should ask itself a few questions in order to ensure it chooses the right type of generator. One of the most important things to consider is which generator fuel source will work most efficiently to meet the company's specific energy needs. To help you answer this question, we're going to discuss the benefits of buying commercial generators that run on natural gas versus diesel:
Benefits of Natural Gas Generators
Natural gas is extremely efficient.
Compared to diesel fuel, natural gas has a smaller impact on the environment.
Natural gas generators are quieter than diesel ones when in use.
This type of generator can be connected to an existing natural gas pipeline.
Most natural gas generators will run on NG, LP or propane – you'll just need to use a simple conversion to figure out the amount needed.
Benefits of Diesel Generators
Diesel is the least flammable fuel source, making it the safest type to use in a commercial generator.
Generators that run on diesel, whether they are used for industrial or personal purposes, tend to require less maintenance. When it comes time for maintenance to be done on a diesel generator, it is usually less involved than it is for a natural gas generator.
Diesel generators are more commonly used than natural gas ones, meaning they're generally easier to find.
Operation costs are lower for diesel generators.
Diesel water-cooled generators have a longer lifespan at 1800 RPM than natural gas generators.
Now that you're aware of the advantages offered by using natural gas vs. diesel as fuel for your commercial generator, we hope you'll be able to make a well-informed decision on which type of generator best suits your company's needs.
Woodstock Power Makes Buying Commercial Generators Simple!
Once you've decided whether a diesel or natural gas commercial generator is right for your organization, it's time to find a specific product that fits your budget. Here at Woodstock Power, we offer used generators that are very cost-effective while still being in 100% operating condition. When you choose us as your source for commercial generators, we'll provide guidance throughout the entire buying process to ensure your company gets the exact equipment it needs for a great price. And unlike some places, we aren't brand-specific – our inventory includes a variety of great brands:
John Deere
Katolight
Asco
SquareD
Trane
Kohler
And more!
If you're ready to get a super deal on a fully functional used commercial generator, then it's time to call Woodstock Power at 610-658-3242 or fill out our online contact form. And to read about the advantages of purchasing a used generator, check out our recent blog post. We can't wait to show you why companies nationwide choose to buy commercial generators from us!